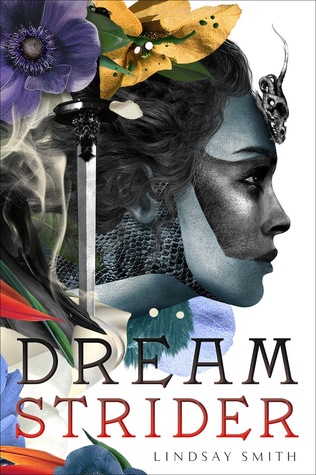 Dreamstrider
by Lindsay Smith

Published by
Roaring Book Press
on October 6th 2015

Genres: YA, Fantasy, Thriller

Pages: 400

Goodreads
---
A high-concept, fantastical espionage novel set in a world where dreams are the ultimate form of political intelligence.
Livia is a dreamstrider. She can inhabit a subject's body while they are sleeping and, for a short time, move around in their skin. She uses her talent to work as a spy for the Barstadt Empire. But her partner, Brandt, has lately become distant, and when Marez comes to join their team from a neighborhing kingdom, he offers Livia the option of a life she had never dared to imagine. Livia knows of no other dreamstriders who have survived the pull of Nightmare. So only she understands the stakes when a plot against the Empire emerges that threatens to consume both the dreaming world and the waking one with misery and rage.
A richly conceived world full of political intrigue and fantastical dream sequences, at its heart Dreamstrider is about a girl who is struggling to live up to the potential before her.
I received a copy of this book for review from the publisher, this does not influence my opinion on the book or my review.
Dreams have always been of fascination to me, because I can never remember mine. I knew I had to give Dreamstrider a chance, especially since the author's other novels sound so interesting (I have them sitting on my shelf, I'll read them one of these days!). I really enjoyed Dreamstrider and it was definitely a thought-provoking book.
In a world where dreams are revered and worshipped, Livia is a dreamstrider. She has the ability to enter the dreamworld and become a temporary host of another person's body, through their dreams. Her people believe that The Dreamer guides every person and shows them the way through their dreams. The priests of Livia's land consider her a mockery to The Dreamer, and she is unsure what that means about her role in the government. Livia struggles with accepting herself and the world around her. Dreamstrider is a wonderful novel full of rich world-building, and themes of self-discovery and acceptance.
Livia is an interesting protagonist. While she sometimes doubts herself and her ability, I would consider her a true strong female protagonist. Her doubts keep her scared but she manages to face every challenge with a little perseverance and thinking. Her doubts are those that we face almost daily. Doubts about our ability, doubts about the people around us, doubts about our own pasts. Her voice is real and heavily relatable, despite the fact that her doubts involve more dreams.
I found the plot to be a bit slow at times but I liked the big twists and turns. The world-building was fascinating and kept me engaged when the plot didn't. I also really enjoyed the romance. I'm usually iffy about romances that start off right away in the novel with long-time friends/companions but I really enjoyed it in Dreamstrider. The romance isn't clear-cut at times which was both frustrating and awesome.
Overall, Dreamstrider was an awesome fantasy novel that I highly recommend to people searching for a book with a unique premise and important theme. I can't wait to read all of Lindsay Smith's other novels now! *runs off frantically*
Related Posts