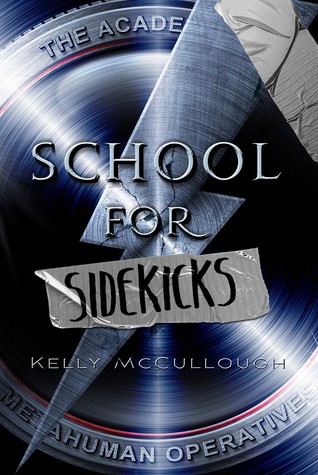 School for Sidekicks
by Kelly McCullough

on August 4th 2015

Genres: Fantasy, Fiction

Pages: 336

Goodreads
---
Being a hero isn't always what it's cracked up to be in this funny and genuine novel from adult fantasy author Kelly McCullough.
Evan Quick is a GIANT superhero geek who dreams of one day becoming a superhero himself. Every morning he checks to see if he's developed his powers overnight, and every day there's nothing. No flying, no super strength, no invulnerability—that always hurts to check—no telepathy, no magic. Not even the ability to turn off the alarm clock without smacking the switch.
But then Evan somehow manages to survive a supervillian's death ray, and is sent to the Academy for Metahuman Operatives. Unfortunately, his new school is not what he expected, and instead of fighting bad guys, Evan finds himself blacklisted, and on the wrong side of the school's director. If Evan ever wants to realize his dream, he must convince his "mentor" Foxman, a semi-retired has-been, to become a real hero once again.
I received a copy of this book for review from the publisher, this does not influence my review. 
I'm a fan of superheroes as much as Evan Quick and when I heard about School for Sidekicks, I knew I had to read his story. Evan lives in a world where metahumans are divided into two groups: Masks (heroes) and Hoods (villains). When Evan encounters one of the biggest Hoods, he is thrust into the world of superheroes and villains. To become a Mask, he has to go to a special school, but everything is not as it seems. School for Sidekicks is Evan's journey to discover the truth about his world and himself.
While School for Sidekicks got a bit slow at times, I enjoyed it. Evan's story was a lot of fun and I can definitely see middle grade readers going crazy for it. I would LOVE to live in a world where superheroes actually exist (I'm still waiting for Spiderman to show up!) and Evan's fascination with superheroes is totally relatable.
My favourite part about reading MG titles is that there is rarely any romance and this one is no exception. I loved that School for Sidekicks is mainly about Evan's journey to figure out who he really is. Self-discovery is such an important theme and I just love that it can be found in the book.
Overall, School for Sidekicks is a fun book about what it means to be a real hero. The twists are totally unexpected and fascinating. I highly recommend it to 8-12 year olds looking to get more into the YA world and for any fans of superheroes!
Related Posts