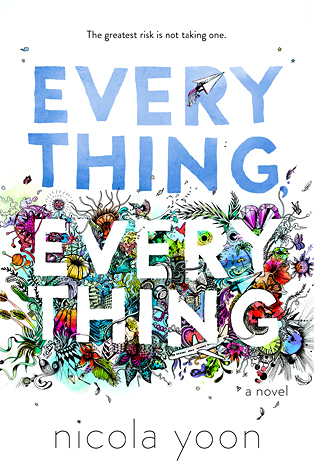 Everything, Everything
by Nicola Yoon

Published by
Delacorte
on September 1st 2015

Genres: YA, Contemporary, Romance

Pages: 320

Goodreads
---
This innovative, heartfelt debut novel tells the story of a girl who's literally allergic to the outside world. When a new family moves in next door, she begins a complicated romance that challenges everything she's ever known. The narrative unfolds via vignettes, diary entries, texts, charts, lists, illustrations, and more.
My disease is as rare as it is famous. Basically, I'm allergic to the world. I don't leave my house, have not left my house in seventeen years. The only people I ever see are my mom and my nurse, Carla.
But then one day, a moving truck arrives next door. I look out my window, and I see him. He's tall, lean and wearing all black—black T-shirt, black jeans, black sneakers, and a black knit cap that covers his hair completely. He catches me looking and stares at me. I stare right back. His name is Olly.
Maybe we can't predict the future, but we can predict some things. For example, I am certainly going to fall in love with Olly. It's almost certainly going to be a disaster.
I received an early copy of this book from the publisher for review. This does not influence my review or my opinion of the book.
This book is everything, everything. (I had to say it, don't give me that look!) Seriously though, Everything, Everything is such a wonderful book and I both love it and hate it and it's everything. Everything, Everything is about finding yourself, what it means to live and the wonders of the world.
Madeline has been inside almost all her life. She has a rare disease called SCID where anything and everything could trigger a reaction that could end in her death. Even with this condition, she's lived for 18 years now and is pretty okay with her white room, bare walls and filtered air. That is, until Olly and his family move next door. Olly brings a new energy to Maddy's life that she hasn't expected. I feel like that's all I can give you without spoiling anything! While this may sound very romance-based, Everything, Everything is really about Maddy and her journey to discover what matters in her life. There's also a huge twist that I totally Did.Not.Expect. so bonus points for that!
I have to give credit where credit is due and damn, I absolutely hated The Little Prince when I read it in school (in the original French *gags*) but Maddy's appreciation for it in Everything, Everything did have me doubting myself a bit. I loved Maddy and her point of view. I feel like we would've been great friends, which is definitely not something I feel often with characters.
I also adored Olly. Their romance was definitely cute but it was also beautiful. I'm not sure how to describe it, honestly. I just really loved it. In terms of diversity, this book was also pretty great. The main character is half African-American half Japanese and the secondary characters are from all walks of life!
Overall, I highly recommend Everything, Everything to everyone. It's such a beautiful and heart-wrenching novel and gahhh, just so much love for it.
Related Posts