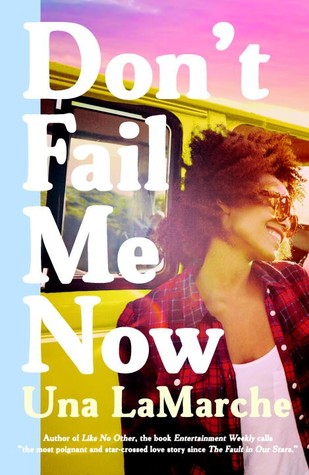 Don't Fail Me Now
by Una LaMarche

Published by
Razorbill
on September 1st 2015

Genres: YA, Contemporary, Fiction

Pages: 288

Goodreads
---
From the author of Like No Other, the novel Entertainment Weekly calls "One of the most poignant and star-crossed love stories since The Fault in Our Stars": What if the last hope to save your family is the person who broke it up to begin with?
Michelle and her little siblings Cass and Denny are African-American and living on the poverty line in urban Baltimore, struggling to keep it together with their mom in jail and only Michelle's part-time job at the Taco Bell to sustain them.
Leah and her stepbrother Tim are white and middle class from suburban Maryland, with few worries beyond winning lacrosse games and getting college applications in on time.
Michelle and Leah only have one thing in common: Buck Devereaux, the biological father who abandoned them when they were little.
After news trickles back to them that Buck is dying, they make the uneasy decision to drive across country to his hospice in California. Leah hopes for closure; Michelle just wants to give him a piece of her mind.
Five people in a failing, old station wagon, living off free samples at food courts across America, and the most pressing question on Michelle's mind is: Who will break down first--herself or the car? All the signs tell her they won't make it. But Michelle has heard that her whole life, and it's never stopped her before....
Una LaMarche triumphs once again with this rare and compassionate look at how racial and social privilege affects one family in crisis in both subtle and astonishing ways.
I received a copy of this book for review, it does not influence my thoughts on the book or my review.
I've wanted to read Una LaMarche's other book Like No Other for so long and when I heard about her latest book, I knew I had to read it. I tend to read tons of fluffy contemporary but I also love to read contemporaries with other themes. Don't Fail Me Now is a wonderful book about friendship and family that I highly recommend.
Michelle's family is a bit chaotic. Her father left her family when she was 6 and her drugged out mother spends time in and out of jail. Leah is a girl from a rich family and she's pretty happy. These two girls share something, however, a father. When Michelle finds out that her father is dying, her siblings and Leah and her stepbrother join her for their last chance to see him. Along the way, the two families learn more about each other and themselves.
I really enjoyed reading Michelle's story. I loved Michelle and while I can't connect to her story personally, I could relate to her struggle to understand herself through her origins. I especially admired the family dynamics in Don't Fail Me Now. While Michelle's parents weren't the perfect role models, I loved that she learns what makes a true family throughout the novel, and that family isn't set in stone.
I also liked the plot, and there were definitely some twists that I didn't expect, which is a bit rare in contemporary. I really enjoyed the romance, as well, it was definitely really sweet and cute.
In terms of diversity, Don't Fail Me Now is pretty great. The main character is from a mixed family and her experience seems genuine. I don't share the same experiences as the main character so I can't say whether it's accurate or not but I did admire the questions that were raised as a result of Michelle and Leah's shared white father.
Overall, I really liked Don't Fail Me Now and I highly recommend it to people looking for an intriguing read about family and second chances.
Related Posts