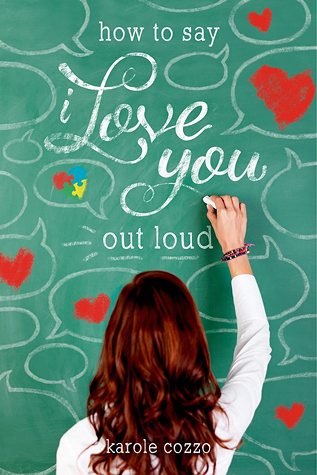 How to Say I Love You Out Loud
by Karole Cozzo

Published by Macmillan, Swoon Reads
on August 4th 2015

Genres: YA, Contemporary, Romance

Pages: 240

Goodreads
Words are strong. Love is stronger.
When Jordyn Michaelson's autistic brother joins her at her elite school, she's determined not to let anyone know they're related. Even if that means closing herself off to all her closest friends, including charming football stud Alex Colby. But despite her best intentions, she just can't shake the memory of kissing Alex last summer, and the desire to do it again.
Can Jordyn find the courage to tell Alex how she really feels—and the truth about her family—before he slips away forever?
Rating: DNF (for personal reasons not relating to the book)
The reason I didn't finish this one is completely personal. This novel starts with the main character going to school. She describes how stressful her school is and how "palpable" the stress is coming off her friend. While How to Say I Love You Out Loud sounds like a cute story, I couldn't handle reading a book about school in the middle of summer. It's a very dumb reason (I know it is) so this review is plainly one of my own feelings. I'll probably go back to the book once I feel better about it. I'm weird, I know.
Related Posts