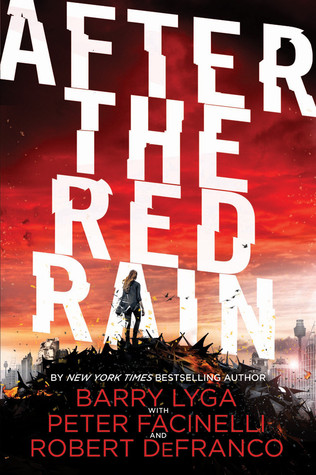 After the Red Rain
by Barry Lyga, Peter Facinelli, Robert DeFranco

Published by
Little Brown Books for Young Readers
Genres: Dystopian, Fantasy, YA, Young Adult

Goodreads
A postapocalyptic novel with a cinematic twist from New York Times bestseller Barry Lyga, actor Peter Facinelli, and producer Robert DeFranco.
On the ruined planet Earth, where 50 billion people are confined to megacities and resources are scarce, Deedra has been handed a bleak and mundane existence by the Magistrate she works so hard for. But one day she comes across a beautiful boy named Rose struggling to cross the river--a boy with a secretive past and special abilities, who is somehow able to find comfort and life from their dying planet.
But just as the two form a bond, it is quickly torn apart after the Magistrate's son is murdered and Rose becomes the prime suspect. Little do Deedra and Rose know how much their relationship will affect the fate of everyone who lives on the planet.
Rating: DNF
I received a copy of this book for review from the publisher. This does not influence my thoughts on the book or my review.
From the synopsis, After the Red Rain sounds like an interesting and thrilling dystopian novel. However, I found myself uninterested.
The prologue was AMAZING. It was about an elderly man who worked in a factory that processed bodies. One day, a baby came through the machine and the man felt he had no choice but to take care of her. The emotion, the writing, it was all magical.
But the first part of the book was 16 years later and unfortunately, the main character and I just didn't click. She seemed to be independent enough but as soon as the "prettiest,most exquisite boy Deedra had ever seen" (ARC pg 15) had entered the picture, I found myself annoyed. The main character suddenly forget everything about herself and continued to just stare at this "gorgeous" and "flawless" boy.
Then, the characters started to interact. Their interactions were just off the bat cringe-worthy:
"I'm not from there," he said. "I've been traveling. For a long time."
"What about your family?"
He simply shrugged. His expression didn't change at all."
"I'm an orphan, too," she said. For no reason, her eyes began to water, and she wiped at them angrily. She'd been alone her entire life. Being parentless, familyless, was nothing new. Why did it suddenly feel so powerfully wrong and painful?
-Uncorrected Proof, page 19
The world building was also lacking for me and I barely understood what the different territories meant. After the Red Rain was just not my cup of tea. I'm not a huge dystopian fan in general so it is most likely a personal thing. Maybe it could work for some readers but it just wasn't my taste.
Related Posts