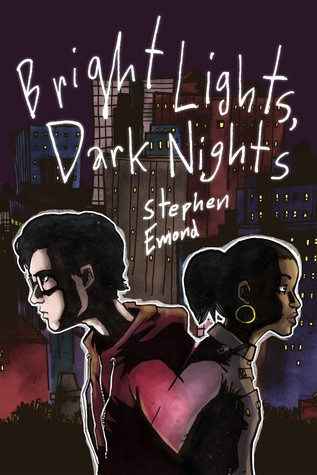 Bright Lights, Dark Nights
by Stephen Emond

Published by MacMillian, Roaring Book Press
on August 11th 2015

Genres: Contemporary, Fiction, Romance, YA, Young Adult

Pages: 384

Goodreads
---
A story about first love, first fights, and finding yourself in a messed up world, from the acclaimed author of Happyface.
Walter Wilcox has never been in love. That is, until he meets Naomi, and sparks, and clever jokes, fly. But when his cop dad is caught in a racial profiling scandal, Walter and Naomi, who is African American, are called out at school, home, and online. Can their bond (and mutual love of the Foo Fighters) keep them together?
With black-and-white illustrations throughout and a heartfelt, humorous voice, Bright Lights, Dark Nights authentically captures just how tough first love can be...and why it's worth fighting for.
I received this book for review from the publisher, this does not influence my thoughts on the book or my review.
When I read the synopsis for Bright Lights, Dark Nights, I knew I had to read it. I'm drawn to YA romances naturally and I knew I had to read this one, especially when there's more than just the romance at stake.
Bright Lights, Dark Nights is a romance that is centered around Walter, the white son of a neighbourhood cop, and Naomi, the cute black girl who's the sister to one of his friends. As they start to fall for each other, a racial profiling scandal surrounding Walter's dad unfolds. Can Naomi and Walter stay strong despite the obstacles and the world around them?
Bright Lights, Dark Nights is a novel that's not afraid to address real issues. Walter has to face the racism in his own life and online. The racism of his family, of the people around him and the small aggressions that he finds in everyday life. He also has to accept his own privilege and what that means in terms of his relationship with Naomi. I thought these topics were handled very well and intelligently. Bright Lights, Dark Nights is definitely a novel that could spark a great discussion.
In terms of the romance (as it is the main focus of the novel), I thought it was really cute. Right from the beginning, the attraction between Naomi and Walter is natural. I liked how their relationship progressed and I liked how they got to know each other over the course of the novel. Walter and Naomi's relationship was so cute and I can see lots of readers enjoying it.
Overall, Bright Lights, Dark Nights is a fantastic novel that's not afraid to address important questions but still manages to produce a cute love story. I also really enjoyed the illustrations and they definitely added a lot to the story. I highly recommend this one!
Related Posts