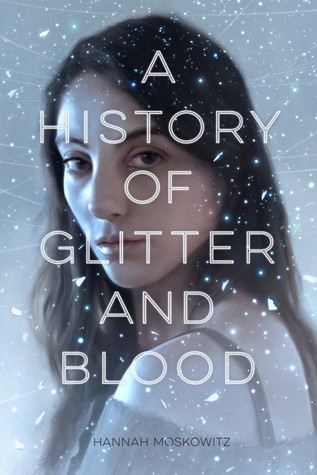 A History of Blood and Glitter
by Hannah Moskowitz

on August 4th 2015

Genres: Fantasy, YA, Young Adult, Fiction, LGBTQIA, Paranormal

Pages: 280

Goodreads
---
Sixteen-year-old Beckan and her friends are the only fairies brave enough to stay in Ferrum when war breaks out. Now there is tension between the immortal fairies, the subterranean gnomes, and the mysterious tightropers who arrived to liberate the fairies.
But when Beckan's clan is forced to venture into the gnome underworld to survive, they find themselves tentatively forming unlikely friendships and making sacrifices they couldn't have imagined. As danger mounts, Beckan finds herself caught between her loyalty to her friends, her desire for peace, and a love she never expected.
This stunning, lyrical fantasy is a powerful exploration of what makes a family, what justifies a war, and what it means to truly love.
I received a copy of this book from the publisher, this does not influence my review or thoughts on the book.
I'll admit that I was very skeptical of A History of Glitter and Blood. So many people who I admire did not enjoy it and I was worried the same would happen to me. However, I found that once I got used to the unusual writing style and started to recognize characters, I actually really enjoyed A History of Glitter and Blood. The narration style is very unique and is later revealed to have another element to it (that I don't want to reveal because spoilers) and I loved how it ended.
Ferrum is a unique city, where fairies are considered at the top of the food chain and gnomes are at the bottom. But when creatures who roam high in the sky (tightropers) invade, they send a message that they are there to liberate the fairies. Beckan and her friends are the only fairies left in the city and who are there to recount the tale. This isn't a story, it's history. (Okay it is a story, but that line makes me proud so I'm keeping it in).
A History of Glitter and Blood has some odd storytelling but I thoroughly enjoyed it. The narrator is a constant and has a distinct voice in the novel which is awesome. There is also tons of swearing (woo) and there is definitely no holding back when it comes to the story. It took me a while to connect to the characters but by the first 100 pages, I loved every single one of them.
The novel did take a while to get into, because of the writing style, but once I got the sense of the characters and the setting, I really enjoyed it. Around halfway, we find out so many details about the world and the twists were just amazing.
Overall, A History of Glitter and Blood is a unique book unlike anything I've read. I recommend it for people looking to read a unique story, but be cautious of the writing and make sure you can adjust to it.
Related Posts