HarperCollins week is continuing and today we're showcasing some titles we've wanted to read FOREVER!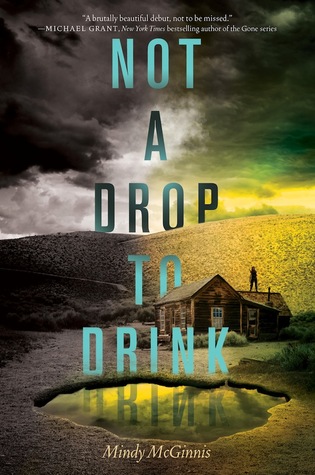 Not a Drop to Drink by Mindy McGinnis
Released September 24th 2013, Katherine Tegen Imprint
Regret was for people with nothing to defend, people who had no water.

Lynn knows every threat to her pond: drought, a snowless winter, coyotes, and, most importantly, people looking for a drink. She makes sure anyone who comes near the pond leaves thirsty, or doesn't leave at all.

Confident in her own abilities, Lynn has no use for the world beyond the nearby fields and forest. Having a life means dedicating it to survival, and the constant work of gathering wood and water. Having a pond requires the fortitude to protect it, something Mother taught her well during their quiet hours on the rooftop, rifles in hand.

But wisps of smoke on the horizon mean one thing: strangers. The mysterious footprints by the pond, nighttime threats, and gunshots make it all too clear Lynn has exactly what they want, and they won't stop until they get it….

With evocative, spare language and incredible drama, danger, and romance, debut author Mindy McGinnis depicts one girl's journey in a barren world not so different than our own.
Rites of Passage by Joy N. Hensley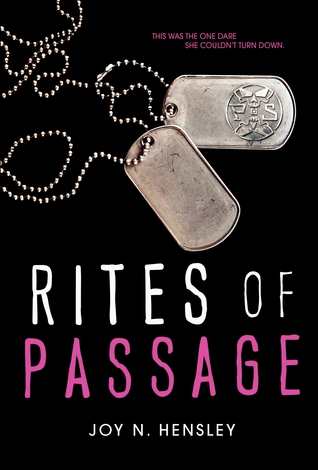 Released September 9th 2014, HarperTeen Imprint
Sam McKenna's never turned down a dare. And she's not going to start with the last one her brother gave her before he died.

So Sam joins the first-ever class of girls at the prestigious Denmark Military Academy. She's expecting push-ups and long runs, rope climbing and mud-crawling. As a military brat, she can handle an obstacle course just as well as the boys. She's even expecting the hostility she gets from some of the cadets who don't think girls belong there. What she's not expecting is her fiery attraction to her drill sergeant. But dating is strictly forbidden and Sam won't risk her future, or the dare, on something so petty… no matter how much she wants him.

As Sam struggles to prove herself, she discovers that some of the boys don't just want her gone—they will stop at nothing to drive her out. When their petty threats turn to brutal hazing, bleeding into every corner of her life, she realizes they are not acting alone. A decades-old secret society is alive and active… and determined to force her out.
At any cost.

Now time's running short. Sam must decide who she can trust… and choosing the wrong person could have deadly consequences.
The Orphan Queen by Jodi Meadows
Released March 10th 2015, Katherine Tegen Imprint
Wilhelmina has a hundred identities.

She is a princess. When the Indigo Kingdom conquered her homeland, Wilhelmina and other orphaned children of nobility were taken to Skyvale, the Indigo Kingdom's capital. Ten years later, they are the Ospreys, experts at stealth and theft. With them, Wilhelmina means to take back her throne.

She is a spy. Wil and her best friend, Melanie, infiltrate Skyvale Palace to study their foes. They assume the identities of nobles from a wraith-fallen kingdom, but enemies fill the palace, and Melanie's behavior grows suspicious. With Osprey missions becoming increasingly dangerous and their leader more unstable, Wil can't trust anyone.

She is a threat. Wraith is the toxic by-product of magic, and for a century using magic has been forbidden. Still the wraith pours across the continent, reshaping the land and animals into fresh horrors. Soon it will reach the Indigo Kingdom. Wilhelmina's magic might be the key to stopping the wraith, but if the vigilante Black Knife discovers Wil's magic, she will vanish like all the others.

Jodi Meadows introduces a vivid new fantasy full of intrigue, romance, dangerous magic, and one girl's battle to reclaim her place in the world.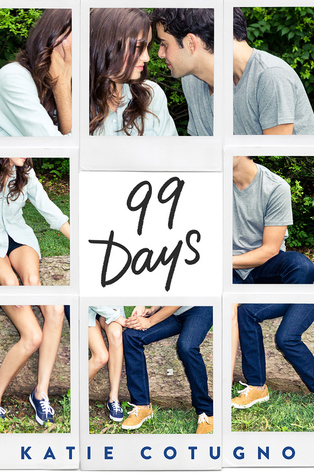 99 Days by Katie Cotugno
Released April 21st 2015, Balzer + Bray Imprint
Day 1: Julia Donnelly eggs my house my first night back in Star Lake, and that's how I know everyone still remembers everything—how I destroyed my relationship with Patrick the night everything happened with his brother, Gabe. How I wrecked their whole family. Now I'm serving out my summer like a jail sentence: Just ninety-nine days till I can leave for college, and be done.

Day 4: A nasty note on my windshield makes it clear Julia isn't finished. I'm expecting a fight when someone taps me on the shoulder, but it's just Gabe, home from college and actually happy to see me. "For what it's worth, Molly Barlow," he says, "I'm really glad you're back."

Day 12: Gabe got me to come to this party, and I'm actually having fun. I think he's about to kiss me—and that's when I see Patrick. My Patrick, who's supposed to be clear across the country. My Patrick, who's never going to forgive me.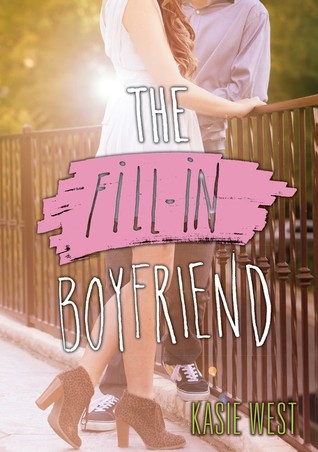 The Fill-In Boyfriend by Kasie West
Released May 5th 2015, HarperTeen Imprint
When Gia Montgomery's boyfriend, Bradley, dumps her in the parking lot of her high school prom, she has to think fast. After all, she'd been telling her friends about him for months now. This was supposed to be the night she proved he existed. So when she sees a cute guy waiting to pick up his sister, she enlists his help. The task is simple: be her fill-in boyfriend—two hours, zero commitment, a few white lies. After that, she can win back the real Bradley.

The problem is that days after prom, it's not the real Bradley she's thinking about, but the stand-in. The one whose name she doesn't even know. But tracking him down doesn't mean they're done faking a relationship. Gia owes him a favor and his sister intends to see that he collects: his ex-girlfriend's graduation party—three hours, zero commitment, a few white lies.

Just when Gia begins to wonder if she could turn her fake boyfriend into a real one, Bradley comes waltzing back into her life, exposing her lie, and threatening to destroy her friendships and her new-found relationship.
Between the Notes by Sharon Huss Roat
Released June 16th 2015, HarperTeen Imprint
When Ivy Emerson's family loses their house—complete with her beloved piano—the fear of what's to come seizes her like a bad case of stage fright. Only this isn't one of her single, terrifying performances. It's her life.

And it isn't pretty.

Ivy is forced to move with her family out of their affluent neighborhood to Lakeside, also known as "the wrong side of the tracks." Hiding the truth from her friends—and the cute new guy in school, who may have secrets of his own—seems like a good idea at first. But when a bad boy next door threatens to ruin everything, Ivy's carefully crafted lies begin to unravel . . . and there is no way to stop them.

As things get to the breaking point, Ivy turns to her music, some unlikely new friends, and the trusting heart of her disabled little brother. She may be surprised that not everyone is who she thought they were . . . including herself.

Debut author Sharon Huss Roat crafts a charming and timely story of what happens when life as you know it flips completely upside down.
The Revenge Playbook by Rachael Allen
Released June 16th 2015, HarperTeen Imprint
In this poignant and hilarious novel, Rachael Allen brilliantly explores the nuances of high school hierarchies, the traumas sustained on the path to finding true love, and the joy of discovering a friend where you least expect.

Don't get mad, get even!

In the small town of Ranburne, high school football rules and the players are treated like kings. How they treat the girls they go to school with? That's a completely different story. Liv, Peyton, Melanie Jane, and Ana each have their own reason for wanting to teach the team a lesson—but it's only when circumstances bring them together that they come up with the plan to steal the one thing the boys hold sacred. All they have to do is beat them at their own game.

Brimming with sharp observations and pitch-perfect teen voices, fans of Jenny Han and Sarah Mlynowski are sure to fall head-over-heels for this sharp tale—by the author of 17 First Kisses—about the unexpected roads that can lead you to finding yourself.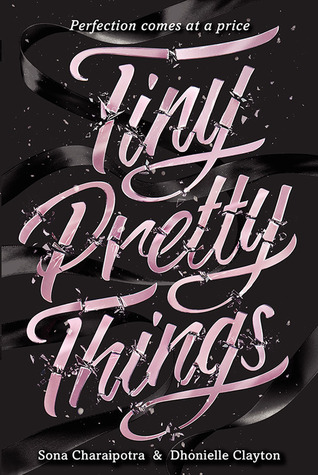 Tiny Pretty Things by Sona Charaipotra and Dhonielle Clayton
Released May 26th 2015, HarperTeen Imprint
Black Swan meets Pretty Little Liars in this soapy, drama-packed novel featuring diverse characters who will do anything to be the prima at their elite ballet school.

Gigi, Bette, and June, three top students at an exclusive Manhattan ballet school, have seen their fair share of drama. Free-spirited new girl Gigi just wants to dance—but the very act might kill her. Privileged New Yorker Bette's desire to escape the shadow of her ballet star sister brings out a dangerous edge in her. And perfectionist June needs to land a lead role this year or her controlling mother will put an end to her dancing dreams forever. When every dancer is both friend and foe, the girls will sacrifice, manipulate, and backstab to be the best of the best.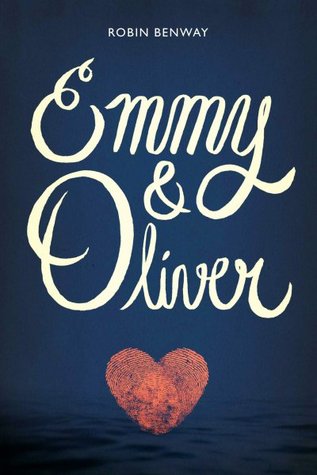 Emmy and Oliver by Robin Benway
Released June 23rd 2015, HarperTeen Imprint
Emmy's best friend, Oliver, reappears after being kidnapped by his father ten years ago. Emmy hopes to pick up their relationship right where it left off. Are they destined to be together? Or has fate irreparably driven them apart?

Emmy just wants to be in charge of her own life.

She wants to stay out late, surf her favorite beach—go anywhere without her parents' relentless worrying. But Emmy's parents can't seem to let her grow up—not since the day Oliver disappeared.

Oliver needs a moment to figure out his heart.

He'd thought, all these years, that his dad was the good guy. He never knew that it was his father who kidnapped him and kept him on the run. Discovering it, and finding himself returned to his old hometown, all at once, has his heart racing and his thoughts swirling.

Emmy and Oliver were going to be best friends forever, or maybe even more, before their futures were ripped apart. In Emmy's soul, despite the space and time between them, their connection has never been severed. But is their story still written in the stars? Or are their hearts like the pieces of two different puzzles—impossible to fit together?

Readers who love Sarah Dessen will tear through these pages with hearts in throats as Emmy and Oliver struggle to face the messy, confusing consequences of Oliver's father's crime. Full of romance, coming-of-age emotion, and heartache, these two equally compelling characters create an unforgettable story.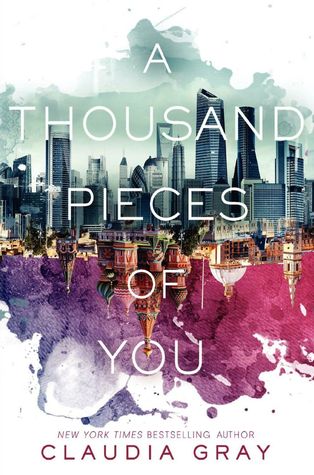 A Thousand Pieces of You by Claudia Gray
Released November 4th 2014, HarperTeen Imprint
Every Day meets Cloud Atlas in this heart-racing, space- and time-bending, epic new trilogy from New York Times bestselling author Claudia Gray.

Marguerite Caine's physicist parents are known for their radical scientific achievements. Their most astonishing invention: the Firebird, which allows users to jump into parallel universes, some vastly altered from our own. But when Marguerite's father is murdered, the killer—her parent's handsome and enigmatic assistant Paul—escapes into another dimension before the law can touch him.

Marguerite can't let the man who destroyed her family go free, and she races after Paul through different universes, where their lives entangle in increasingly familiar ways. With each encounter she begins to question Paul's guilt—and her own heart. Soon she discovers the truth behind her father's death is more sinister than she ever could have imagined.

A Thousand Pieces of You explores a reality where we witness the countless other lives we might lead in an amazingly intricate multiverse, and ask whether, amid infinite possibilities, one love can endure.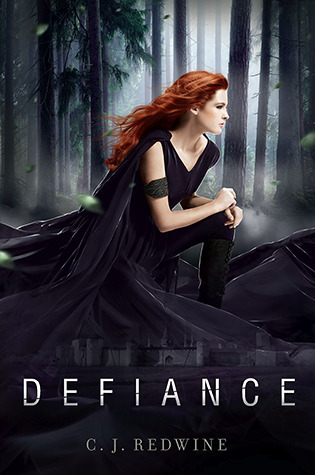 Defiance by C.J. Redwine
Released August 28th 2012, Balzer + Bray Imprint
Defiance by C. J. Redwine is rich postapocalyptic YA fantasy perfect for fans of Graceling and Tamora Pierce.

While the other girls in the walled city-state of Baalboden learn to sew and dance, Rachel Adams learns to track and hunt. While they bend like reeds to the will of their male Protectors, she uses hers for sparring practice.

When Rachel's father fails to return from a courier mission and is declared dead, the city's brutal Commander assigns Rachel a new Protector: her father's apprentice, Logan—the boy she declared her love to and who turned her down two years before. Left with nothing but fierce belief in her father's survival, Rachel decides to escape and find him herself.

As Rachel and Logan battle their way through the Wasteland, stalked by a monster that can't be killed and an army of assassins out for blood, they discover romance, heartbreak, and a truth that will incite a war decades in the making.
Everneath by Brodi Ashton
Released January 24th 2012, Balzer + Bray Imprint
Last spring, Nikki Beckett vanished, sucked into an underworld known as the Everneath. Now she's returned—to her old life, her family, her boyfriend—before she's banished back to the underworld . . . this time forever. She has six months before the Everneath comes to claim her, six months for good-byes she can't find the words for, six months to find redemption, if it exists.

Nikki longs to spend these precious months forgetting the Everneath and trying to reconnect with her boyfriend, Jack, the person most devastated by her disappearance—and the one person she loves more than anything. But there's just one problem: Cole, the smoldering immortal who enticed her to the Everneath in the first place, has followed Nikki home. Cole wants to take over the throne in the underworld and is convinced Nikki is the key to making it happen. And he'll do whatever it takes to bring her back, this time as his queen.

As Nikki's time on the Surface draws to a close and her relationships begin slipping from her grasp, she is forced to make the hardest decision of her life: find a way to cheat fate and remain on the Surface with Jack or return to the Everneath and become Cole's queen.

Everneath is a captivating story of love, loss, and immortality from debut author Brodi Ashton.
Elusion by Claudia Gabel & Cheryl Klam
Released March 18th 2014, Katherine Tegen Imprint
Soon, Elusion® will change the world and life as we know it.

A new technology called Elusion is sweeping the country. An app, visor and wristband will virtually transport you to an exotic destination where adventure can be pursued without the complications—or consequences—of real life.

Regan is an Elusion insider. Or at least she used to be. Her father invented the program, and her best friend, Patrick, heir to the tech giant Orexis, is about to release it nationwide. But ever since her father's unexpected death, Regan can't bear to Escape, especially since waking up from the dream means crashing back to her grim reality.

Still, when there are rumors of trouble in Elusion—accusations that it's addictive and dangerous— Regan is determined to defend it. But the critics of Elusion come from surprising sources, including Josh, the handsome skeptic with his own personal stakes. As Regan investigates the claims, she discovers a disturbing web of secrets. She will soon have to choose between love and loyalty…a decision that will affect the lives of millions.

Suspense, thrills, and romance fuel this near-future story about the seductive nature of a perfect virtual world, and how far one girl will go to uncover the truth behind the illusions.
Which of these Harper books have you read/want to read? Let us know in the comments!