Disney week is still way on its way and today we have an awesome exclusive for you: an interview with Mercedes Lackey, author of Hunter! Ahhh, so exciting!
About the Author:
Mercedes Lackey is the acclaimed author of over fifty novels and many works of short fiction. In her "spare" time she is also a professional lyricist and a licensed wild bird rehabilitator. Mercedes lives in Oklahoma with her husband and frequent collaborator, artist Larry Dixon, and their flock of parrots.
About the Book: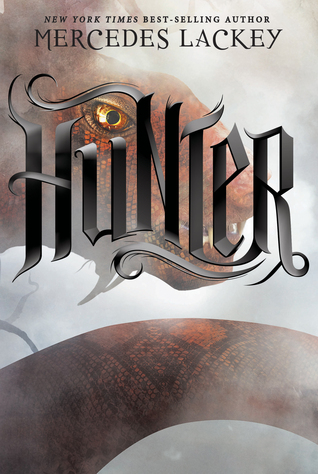 Hunter by Mercedes Lackey (Hunter #1)
Releasing September 1st 2015
Centuries ago, the barriers between our world and the Otherworld were slashed open allowing hideous fantastical monsters to wreak havoc; destroying entire cities in their wake. Now, people must live in enclosed communities, behind walls that keep them safe from the evil creatures constantly trying to break in. Only the corps of teen Hunters with lightning reflexes and magical abilities can protect the populace from the daily attacks.

Joyeaux Charmand is a mountain girl from a close knit village who comes to the big city to join the Hunters. Joy thinks she is only there to perform her civic duty and protect the capitol Cits, or civilians, but as cameras follow her every move, she soon learns that the more successful she is in her hunts, the more famous she becomes.

With millions of fans watching her on reality TV, Joy begins to realize that Apex is not all it seems. She is forced to question everything she grew up believing about the legendary Hunters and the very world she lives in. Soon she finds that her fame may be part of a deep conspiracy that threatens to upend the protective structure built to keep dark magic out. The monsters are getting in and it is up to Joy to find out why.
The Interview!
Q: Describe your book in six words!

Young adult post apocalypse with magic.
Q: What inspired you to write Hunter? 

I wanted to do something that wasn't either urban fantasy or classic fantasy, preferably something futuristic, but with elements of fantasy.  When I first began writing as a pre-teen I actually wrote more science fiction than I did fantasy, and I wanted to get back to that.  One of my favorite books as a teen was Andre Norton's Daybreak 2250 which was later renamed Star Man's Son, and I wanted to do something like that.
Q: In Hunter, the lines between protecting the innocent and fame seem to be blurred. How do you manage to blend these two separate concepts together?  
They are blurred in real life.  If you look at people like George Clooney who do amazing things to help others, yet are media stars, you can see how it is the personality of the person that is determining whether he or she just basks in fame or does something with it.
Q: How is Hunter different from all your other novels?
Right from the front, it's written in first person.  That is a really difficult form to get right, and have it be invisible to the reader.  It's taken me twenty years before I felt ready to attempt it.  Then of course, it's science fiction rather than fantasy (despite the magic in it).
Q: If there's one thing you'd like readers to learn from Hunter, what would that be? 
As the Lakota say, Mitakuye Oyasin.  We are all connected.
Q: Do you plan your writing or do you prefer to figure it out as you go?  
It's pretty meticulously planned.  That way I get all the hard brainwork out of the way so I can just write and avoid staring at an empty page for days.  Some small things I figure out as I go, but they are generally really small.  Like Joy's dates with Josh, where they go and what they do.
Q: What are you working on next? 
Right this minute I am working on the next Valdemar book.  As soon as that is done (which is literally days away) I will start on the sequel to Hunter, which will be called Elite.  It's nice having a backlist of 96 books; if people like Hunter there are plenty of other books to try.
And now, what you've all been waiting for…
THE GIVEAWAY!