Disney week is continuing and guess what? We have ANOTHER interview with ANOTHER giveaway! How exciting is that?! Anyway, get ready to meet E.K. Johnston, author of A Thousand Nights!
About the Author:
E.K. Johnston had several jobs and one vocation before she became a published writer. If she's learned anything, it's that things turn out weird sometimes, and there's not a lot you can do about it. Well, that and how to muscle through awkward fanfic because it's about a pairing she likes.
You can follow Kate on Twitter (@ek_johnston) to learn more about Alderaanian political theory than you really need to know, or on Tumblr (ekjohnston) if you're just here for pretty pictures.
E.K. Johnston is represented by Adams Literary
About the Book: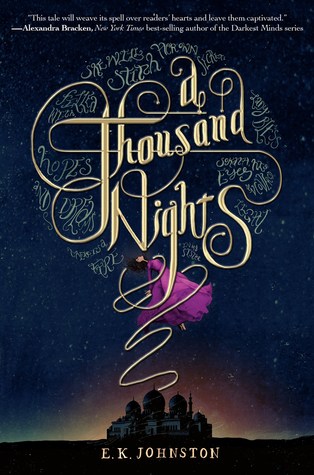 A Thousand Nights by E.K. Johnston
Releasing October 6th 2015
Lo-Melkhiin killed three hundred girls before he came to her village, looking for a wife. When she sees the dust cloud on the horizon, she knows he has arrived. She knows he will want the loveliest girl: her sister. She vows she will not let her be next.

And so she is taken in her sister's place, and she believes death will soon follow. Lo-Melkhiin's court is a dangerous palace filled with pretty things: intricate statues with wretched eyes, exquisite threads to weave the most beautiful garments. She sees everything as if for the last time.But the first sun rises and sets, and she is not dead. Night after night, Lo-Melkhiin comes to her and listens to the stories she tells, and day after day she is awoken by the sunrise. Exploring the palace, she begins to unlock years of fear that have tormented and silenced a kingdom. Lo-Melkhiin was not always a cruel ruler. Something went wrong.

Far away, in their village, her sister is mourning. Through her pain, she calls upon the desert winds, conjuring a subtle unseen magic, and something besides death stirs the air.

Back at the palace, the words she speaks to Lo-Melkhiin every night are given a strange life of their own. Little things, at first: a dress from home, a vision of her sister. With each tale she spins, her power grows. Soon she dreams of bigger, more terrible magic: power enough to save a king, if she can put an end to the rule of a monster.
The Interview!
Q: Describe your book in six words!
Murder, Sacrifice, Power, Determination, and Sheep.
Q: Retellings are becoming more and more popular. How do you find originality in your writing?
I drew on a lot of personal experience when it came to the setting of the desert, which helped give the story a lot of shape. I also went as far as I could with language, to make the book feel other-worldly and old. Also, it turns out that when you try to avoid a straight-up romance, you have to get creative when it comes to finding reasons for people to talk!
Q: What inspired you to write a retelling?
I absolutely love re-tellings. I love how there's this whole crop of very intelligent writers taking stories that were not always great for female characters, and re-imagining them as feminist stories for future readers. I wanted to try one, and I wanted to do a story that hadn't been considered a lot before. I decided to take inspiration from the frame story of The Arabian Nights, and then I had the thought: Lo-Melkhiin killed three hundred girls before he came to my village, looking for a wife. And that was that.
Q: Is there anything you'd want your readers to learn from A Thousand Nights?
I hope that readers will think about the stories behind the stories they're used to hearing. We have all these fairy-tales in collections, carefully curated by men with agendas, and it's important to remember that when we think about them. And if they pick up some details on how to herd sheep along the way, so much the better.
Q: Do you prefer to plan your writing or do you figure it out as you go?
I have an exceptionally vague idea of the end (usually the moment of the climax), and very little outside of that. I am a pantser every day of the week!
Q: What are you planning on working on next?
I just finished the first draft of the companion novel for NIGHTS, so I will have to fix that pretty soon. And I have at least one book to plan and draft in the second half of this year, so…also those. Never a dull moment!
And now the moment you've all been waiting for,
The Giveaway!
Related Posts