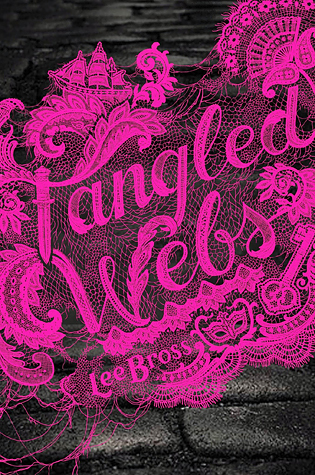 Tangled Webs
by Lee Bross

Series:
Tangled Webs #1
Published by
Disney
on June 23rd, 2015

Genres: Historical Fiction, Mystery, YA, Young Adult

Pages: 304

Goodreads
---
London, 1725. Everybody has a secret. Lady A will keep yours—for a price. This sumptuous, scandalous YA novel is wickedly addictive.
Lady A is the most notorious blackmailer in the city. With just a mask and a gown to disguise her, she sweeps into lavish balls and exclusive events collecting the most valuable currency in 1725 London—secrets.
But leading a double life isn't easy. By day Lady A is just a sixteen-year-old girl named Arista who lives in fear of her abusive master, Bones, and passes herself off as a boy to move safely through the squalor of London's slums. When Bones attempts to dispose of his pawn forever, Arista is rescued by the last person she expects: Jonathan Wild, the infamous Thief Taker General who moves seamlessly between the city's criminal underworld and its most elite upper circles. Arista partners with Wild on her own terms in the hopes of saving enough money to buy passage out of London.
Everything changes when she meets Graeden Sinclair, the son of a wealthy merchant. Grae has traveled the world, has seen the exotic lands Arista has longed to escape to her whole life, and he loves Arista for who she is—not for what she can do for him. Being with Grae gives something Arista something precious that she swore off long ago: hope. He has promised to help Arista escape the life of crime that has claimed her since she was a child. But can you ever truly escape the past?
I received an early copy of this book for review from the publisher. This does not influence my thoughts on the book.
-DNF at 35%-
When I read the synopsis for Tangled Webs, I was excited to read it. A historical fiction novel involving secrets, lies and deception? Sign me up!  Unfortunately, I just could not get into it.
The plot so far has felt very repetitive. I found a lot of the plot points to be telling vs. showing the conflicts and it felt repetitive. The entire first part, Lady A (Arista) keeps talking about how she wants freedom and to see India. This longing was repeated over and over again and it was everything that she could think about, even when there were other concerns for her to worry about (like managing to stay alive). Arista also seemed very flip-floppy. She would think about how she has to obey Bones to protect her life and her friends but in a half a second, she would think about how badly she wants freedom and how she'd risk everything to get it.
And when Grae (the love interest) enters the picture and "promises" to show her freedom, the love is instantaneous. The entire connection between Grae and Arista seems to be only because of a few (perhaps) empty promises that Grae makes to Arista. This connection causes Arista to completely forget about the person she has liked her entire life, Nic. Arista kept flip-flopping between Nic and Grae and it got a bit annoying, especially since both love interests weren't my taste and I couldn't really bring myself to care about who she chose.
In my opinion, I couldn't relate to Arista and so I couldn't enjoy Tangled Webs. I'm more of a character-driven reader and if I can't connect to the character, I can't connect to the book. Tangled Webs is just not the book for me.
Related Posts