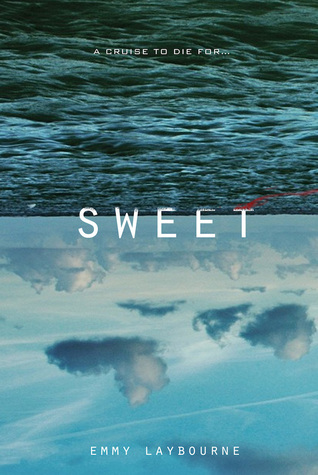 Sweet
by Emmy Laybourne

Published by Feiwel & Friends, MacMillian
on June 2nd 2015

Genres: Contemporary, Fiction, Horror, Mystery, Thriller, YA, Young Adult

Pages: 288

Goodreads
---
Emmy Laybourne, author of the Monument 14 trilogy, takes readers on a dream vacation that goes first comically, then tragically, then horrifyinglywrong!
The luxurious celebrity cruise launching the trendy new diet sweetener Solu should be the vacation of a lifetime. But Laurel is starting to regret accepting her friend Viv's invitation. She's already completely embarrassed herself in front of celebrity host Tom Forelli—the hottest guy ever!—and she's too sick to even try the sweetener. And that's before Viv and all the other passengers start acting really strange.
Tom knows that he should be grateful for this job and the chance to shed his former-child-star image. His publicists have even set up a 'romance' with a sexy reality star. But as things on the ship start to get wild, he finds himself drawn to a different girl. And when the hosting gig turns into an expose on the shocking side effects of Solu, it's Laurel that he's determined to save.
I received this book for review from the publisher, this does not influence my review.
I loved Emmy Laybourne's Monument 14 series so when I heard about her latest book, I jumped at the chance to read it. And I'm so glad I did because Sweet is an entertaining page-turner that kept me up!
When Laurel gets a ticket to the newest weight-loss cruise ship, she decides to join her self-conscious best friend on the 7-day trip. The key to the weight-loss? Solu, a new sweetener that guarantees almost instantaneous weight-loss. Tom is also attending the cruise, as a documenter and promoter. His fame started off as a reality show star, but "Baby Tom-Tom" wants nothing more than to be a genuine actor. So when Solu starts to turn addictive, the cruise suddenly turns from relaxing to terrifying with Tom and Laurel caught right in the action.
I really loved the plot of Sweet. The first part of the book starts off as a precursor to the problem but when Solu finally starts getting a bit deadly, the novel takes a whole different tone. The plot kept me on my toes and was definitely thrilling. The romance was also interesting and I really liked the interactions between Tom and Laurel. The romance did start as a bit of an insta-lust but that's expected with teenagers (and especially since one of them is a child star!)
The writing was great, and I liked that it was easy to distinguish between the point-of-views. I hate reading books where I can't tell who is speaking, and I liked that the characters felt fleshed-out. The concept behind Solu was interesting, but there is very little explanation on how it is actually created. The concept itself was interesting enough for me to keep reading, but perhaps those who prefer to know the science behind things may not enjoy that aspect.
In terms of diversity, the main characters weren't diverse but all the other characters definitely were not your stock characters. It definitely felt like Sweet takes place in the real world, rather than some sort of world where only white rich kids exist.
Overall, Sweet is an awesome novel from an already awesome author. It was a thrilling horror novel that was also slightly comedic and it just was great! I highly recommend Sweet for those looking for a fun new book!
Related Posts