Simon & Schuster week has officially started and we'd love to take this time to feature our favourite S&S books!
---
Not Otherwise Specified by Hannah Moskowitz
Released March 3rd, 2015
Simon Pulse Imprint
Etta is tired of dealing with all of the labels and categories that seem so important to everyone else in her small Nebraska hometown.

Everywhere she turns, someone feels she's too fringe for the fringe. Not gay enough for the Dykes, her ex-clique, thanks to a recent relationship with a boy; not tiny and white enough for ballet, her first passion; and not sick enough to look anorexic (partially thanks to recovery). Etta doesn't fit anywhere— until she meets Bianca, the straight, white, Christian, and seriously sick girl in Etta's therapy group. Both girls are auditioning for Brentwood, a prestigious New York theater academy that is so not Nebraska. Bianca seems like Etta's salvation, but how can Etta be saved by a girl who needs saving herself?

The latest powerful, original novel from Hannah Moskowitz is the story about living in and outside communities and stereotypes, and defining your own identity.
---
Compulsion by Martina Boone
Released October 28th 2014
Simon Pulse Imprint
Three plantations. Two wishes. One ancient curse.

All her life, Barrie Watson has been a virtual prisoner in the house where she lives with her shut-in mother. When her mother dies, Barrie promises to put some mileage on her stiletto heels. But she finds a new kind of prison at her aunt's South Carolina plantation instead—a prison guarded by an ancient spirit who long ago cursed one of the three founding families of Watson Island and gave the others magical gifts that became compulsions.

Stuck with the ghosts of a generations-old feud and hunted by forces she cannot see, Barrie must find a way to break free of the family legacy. With the help of sun-kissed Eight Beaufort, who knows what Barrie wants before she knows herself, the last Watson heir starts to unravel her family's twisted secrets. What she finds is dangerous: a love she never expected, a river that turns to fire at midnight, a gorgeous cousin who isn't what she seems, and very real enemies who want both Eight and Barrie dead.
---
Where Things Come Back by John Corey Whaley
Released January 1st 2011
Atheneum Books for Young Readers Imprint
Just when seventeen-year-old Cullen Witter thinks he understands everything about his small and painfully dull Arkansas town, it all disappears. . . .

In the summer before Cullen's senior year, a nominally-depressed birdwatcher named John Barling thinks he spots a species of woodpecker thought to be extinct since the 1940s in Lily, Arkansas. His rediscovery of the so-called Lazarus Woodpecker sparks a flurry of press and woodpecker-mania. Soon all the kids are getting woodpecker haircuts and everyone's eating "Lazarus burgers." But as absurd as the town's carnival atmosphere has become, nothing is more startling than the realization that Cullen's sensitive, gifted fifteen-year-old brother Gabriel has suddenly and inexplicably disappeared.

While Cullen navigates his way through a summer of finding and losing love, holding his fragile family together, and muddling his way into adulthood, a young missionary in Africa, who has lost his faith, is searching for any semblance of meaning wherever he can find it. As distant as the two stories seem at the start, they are thoughtfully woven ever closer together and through masterful plotting, brought face to face in a surprising and harrowing climax.

Complex but truly extraordinary, tinged with melancholy and regret, comedy and absurdity, this novel finds wonder in the ordinary and emerges as ultimately hopeful. It's about a lot more than what Cullen calls, "that damn bird." It's about the dream of second chances.
---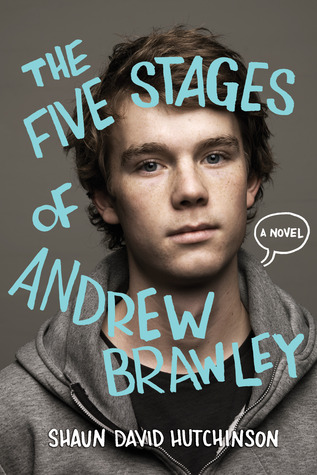 The Five Stages of Andrew Brawley by Shaun David Hutchinson
Released January 20th 2015
Simon Pulse Imprint
Andrew Brawley was supposed to die that night. His parents did, and so did his sister, but he survived.

Now he lives in the hospital. He serves food in the cafeteria, he hangs out with the nurses, and he sleeps in a forgotten supply closet. Drew blends in to near invisibility, hiding from his past, his guilt, and those who are trying to find him.

Then one night Rusty is wheeled into the ER, burned on half his body by hateful classmates. His agony calls out to Drew like a beacon, pulling them both together through all their pain and grief. In Rusty, Drew sees hope, happiness, and a future for both of them. A future outside the hospital, and away from their pasts.

But Drew knows that life is never that simple. Death roams the hospital, searching for Drew, and now Rusty. Drew lost his family, but he refuses to lose Rusty, too, so he's determined to make things right. He's determined to bargain, and to settle his debts once and for all.

But Death is not easily placated, and Drew's life will have to get worse before there is any chance for things to get better.

A partly graphic novel.
---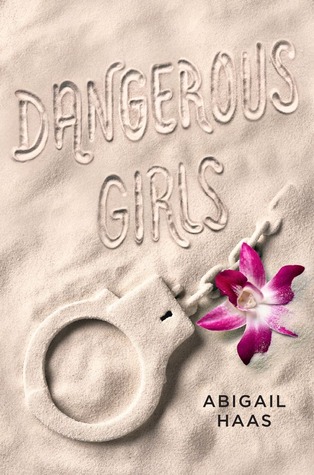 Dangerous Girls by Abigial Haas
Released July 16th 2013
Simon Pulse Imprint
It's Spring Break of senior year. Anna, her boyfriend Tate, her best friend Elise, and a few other close friends are off to a debaucherous trip to Aruba that promises to be the time of their lives. But when Elise is found brutally murdered, Anna finds herself trapped in a country not her own, fighting against vile and contemptuous accusations.

As Anna sets out to find her friend's killer; she discovers hard truths about her friendships, the slippery nature of truth, and the ache of young love.

As she awaits the judge's decree, it becomes clear that everyone around her thinks she is not just guilty, but dangerous. When the truth comes out, it is more shocking than one could ever imagine…
---
Better Nate Than Ever by Tim Federle 
Released February 5th 2013
Simon & Schuster Books For Young Readers Imprint
A New York Times Book Review Notable Book of 2013,Publishers Weekly Flying Start and Best Book of 2013, Amazon Best Book of 2013, and Junior Library Guild selection

★ "Hilarious and heartwarming . . . this book soars." —Publishers Weekly (starred review)

Nate Foster has big dreams. His whole life, he's wanted to star in a Broadway show. (Heck, he'd settle for *seeing* a Broadway show.) But how is Nate supposed to make his dreams come true when he's stuck in Jankburg, Pennsylvania, where no one (except his best pal Libby) appreciates a good show tune? With Libby's help, Nate plans a daring overnight escape to New York. There's an open casting call for E.T.: The Musical, and Nate knows this could be the difference between small-town blues and big-time stardom.
---
Have you read any of these books? What do you think of them? Let us know in the comments!!
Related Posts