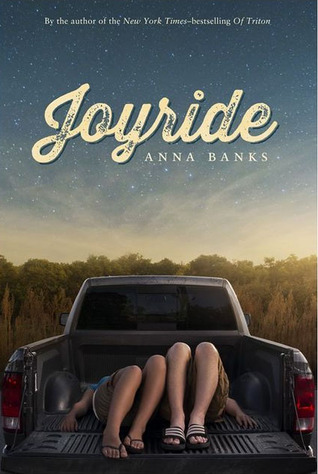 Joyride
by Anna Banks

Published by Feiwel & Friends, MacMillian
on June 2nd 2015

Genres:
Contemporary
Pages: 288

Goodreads
---
A popular guy and a shy girl with a secret become unlikely accomplices for midnight pranking, and are soon in over their heads—with the law and with each other—in this sparkling standalone from NYT-bestselling author Anna Banks.
It's been years since Carly Vega's parents were deported. She lives with her brother, studies hard, and works at a convenience store to contribute to getting her parents back from Mexico.
Arden Moss used to be the star quarterback at school. He dated popular blondes and had fun with his older sister, Amber. But now Amber's dead, and Arden blames his father, the town sheriff who wouldn't acknowledge Amber's mental illness. Arden refuses to fulfill whatever his conservative father expects.
All Carly wants is to stay under the radar and do what her family expects. All Arden wants is to NOT do what his family expects. When their paths cross, they each realize they've been living according to others. Carly and Arden's journey toward their true hearts—and one another—is funny, romantic, and sometimes harsh.
I received a copy of this book from the publisher, this does not influence my review.
-DNF at 41%-
I am a huge fan of contemporary YA, and Joyride seemed like the perfect book for me, but unfortunately, it was just not my type of book.
I was totally invested in Carly's story. Her parents were deported several years ago, and as a result, Carly works as much as possible to find the money to bring them back. While still trying to do well in high school, of course. Carly wants to help her parents but also help secure a future for herself by getting good grades and going to a good school. Her problems were very real and heavily relatable.
But Arden, our main love interest, was totally un-relatable to me. While he had some troubling family situations of his own, I couldn't relate to him. His need to prank (which is the reason he starts talking to Carly) just doesn't compute with me. The only way he connected to his older sister was through pranks and now that she's gone, he needs a new accomplice. He chooses Carly because he can tell she's spunky (and obviously pretty).
I just didn't relate to him, at all. Every time he complains about his family, I just wanted to roll my eyes. Did he think he could win sympathy points complaining about a lack of connection to his family members to a girl who barely gets any sleep because she's working all the time? Yep. Did it work? For the girl, not for me. While readers know some more about his family then Carly, he still goes by the firm stance that "no one understands me any more" and I just could not ignore that his family situation is not as tragic as Carly's, yet he treats it as such.
In the middle of the book, Arden also did not comprehend why Carly was acting rude to him, or why she expressed no desire to help him with his pranks. He apologized over and over again, yet it did nothing. Finally, he resorted to following her and then grabbing her from behind and covering her mouth to get her to listen to him. (Imagine: a teenage girl being restrained the side of the road by a much taller and stronger person. See also: she could not yell because he covered her mouth). My immediate response: just no. That is not Appropriate Behaviour for a love interest, let alone anyone. Carly acted shocked, violated and of course deeply offended but I was not rooting for this guy nor do I want to read more about him.
On a more personal note, I do not understand pranking. Even if people are horrible monsters, I just don't think that ruining a person's life or creating horrible experiences for them is pleasurable in any way. Treat people the way you want to be treated is my philosophy, and Arden just doesn't work as a love interest for me because of his need to prank.
Overall, Joyride seems like a cute contemporary read but I just could not connect to the love interest. I loved the main character and I may consider going back to the book just to see the rest of her story. But I claim a hard pass on the love interest.
Related Posts