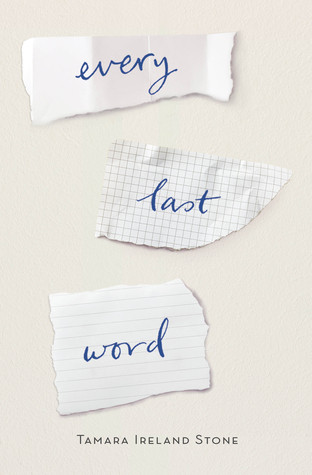 Every Last Word
by Tamara Ireland Stone

Published by
Disney
on June 16th, 2015

Genres: Contemporary, Fiction

Pages: 368

Goodreads
---
If you could read my mind, you wouldn't be smiling.
Samantha McAllister looks just like the rest of the popular girls in her junior class. But hidden beneath the straightened hair and expertly applied makeup is a secret that her friends would never understand: Sam has Purely-Obsessional OCD and is consumed by a stream of dark thoughts and worries that she can't turn off.
Second-guessing every move, thought, and word makes daily life a struggle, and it doesn't help that her lifelong friends will turn toxic at the first sign of a wrong outfit, wrong lunch, or wrong crush. Yet Sam knows she'd be truly crazy to leave the protection of the most popular girls in school. So when Sam meets Caroline, she has to keep her new friend with a refreshing sense of humor and no style a secret, right up there with Sam's weekly visits to her psychiatrist.
Caroline introduces Sam to Poet's Corner, a hidden room and a tight-knit group of misfits who have been ignored by the school at large. Sam is drawn to them immediately, especially a guitar-playing guy with a talent for verse, and starts to discover a whole new side of herself. Slowly, she begins to feel more "normal" than she ever has as part of the popular crowd . . . until she finds a new reason to question her sanity and all she holds dear.
I received this book in exchange for an honest review. This does not influence my thoughts about the book.
As much as I love contemporary YA, I rarely read books that address mental illness, or ones that portray it well. I'm happy to say that Every Last Word is a thoughtful, moving read about OCD that is both engaging and informative.
Samantha has Purely-Obsessed OCD and her mind is filled with dark thoughts that she can't escape. When she meets a new student, Caroline, she starts to feel a bit better. Caroline introduces her to Poet's Corner, a hidden room in the school basement where fellow students gather to share poems and songs that they wrote. As Sam makes new friends and starts writing, she feels a bit more "normal". But can her old friends and new life merge smoothly, even when something turns everything she's known upside down?
Every Last Word is definitely a book I'd recommend to those who are looking to read a book with realistic portrayal of Purely-Obsessed OCD. It was clear that the author did her research (and she even described the research she conducted in the author's note) and it really shows. One of the highlights of Sam's journey is her relationship with her therapist. I like that her therapist was able to be there for her when she needed it and that she was willing to contact her therapist. A lot of the mental illness books I've read describe a character who hates their therapist, and the meds they're on, and it was refreshing to read about Sam who actually understands and accepts the support system in her life.
The plot in Every Last Word is not very fast-paced (which is to be expected) but I still found that the plot was developing smoothly and fairly quickly. I liked the romance, and how the love interest didn't want to "fix" Sam. But most of all, I liked Sam. While it was sometimes hard for me to read from her point of view, she felt real to me and I totally connected to her. I enjoyed her transformation throughout the book and it definitely made me think about my own experiences.
Overall, Every Last Word is an amazing novel that handles mental illnesses in a refreshing and realistic way (at least to me). I highly recommend it!
Related Posts