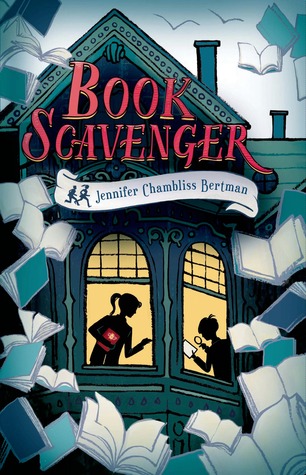 Book Scavenger
by Jennifer Chambliss Bertman

Published by Henry Holt and Co., MacMillian
on June 2nd 2015

Genres: Fiction, Middle Grade, Mystery

Pages: 368

Goodreads
---
A hidden book. A found cipher. A game begins . . . .
Twelve-year-old Emily is on the move again. Her family is relocating to San Francisco, home of her literary idol: Garrison Griswold, creator of the online sensation Book Scavenger, a game where books are hidden all over the country and clues to find them are revealed through puzzles. But Emily soon learns that Griswold has been attacked and is in a coma, and no one knows anything about the epic new game he had been poised to launch. Then Emily and her new friend James discover an odd book, which they come to believe is from Griswold and leads to a valuable prize. But there are others on the hunt for this book, and Emily and James must race to solve the puzzles Griswold left behind before Griswold's attackers make them their next target.
I received a copy of this book from the publisher, this does not influence my review. 
I'm always looking for fun middle-grade books to recommend and I'm happy to say that Book Scavenger will make that list. Book Scavenger is a fun, thrilling and surprisingly informative new book that will entice upper middle-grade readers!
Emily is a book scavenger. On a site created by Garrison Griswold, book  lovers around the world can create scavenger hunts that lead to books and exclusive member statuses. Emily is a devout player of the game and when her family moves to San Francisco, Griswold's home, Emily may just discover the greatest scavenger hunt of all.
I loved the plot of Book Scavenger. While it was definitely about the scavenger hunt that Emily discovers, it was also about family. Emily's family moves around a lot, because her parents have the goal of moving to all 50 states with 50 years and Emily deals with struggling to find a home. There are also great sibling dynamics with Emily and her brother struggling to find a common interest like they had in the past. The plot was interesting and the author really knew how to incorporate the world of ciphers and mysteries accurately.
My only grievance with the plot was that I felt the side characters didn't necessarily have to have their own point-of-view, it was a bit anti-climatic when the main characters already established the things readers learned from the side characters.
The world building was amazing and I could really feel the San Francisco setting. I loved the Book Scavenger elements and I really wish that a website like that existed in real life!
Overall, I really enjoyed Book Scavenger and I definitely will recommend it to middle-grade readers and those looking to read more middle-grade books!
Related Posts