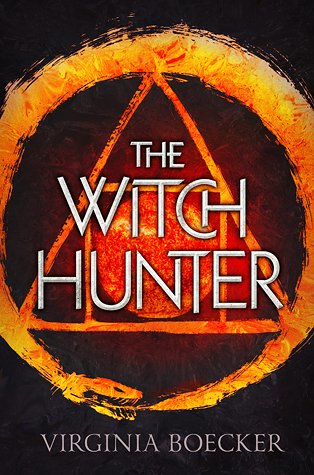 The Witch Hunter
by Virginia Boecker

Series:
The Witch Hunter #1
Published by
Little Brown Books for Young Readers
on June 2nd 2015

Genres: Fantasy, Fiction, Historical Fiction, Paranormal, Romance, YA, Young Adult

Pages: 368

Goodreads
---
The magic and suspense of Graceling meet the political intrigue and unrest of Game of Thrones in this riveting fantasy debut.
Your greatest enemy isn't what you fight, but what you fear.
Elizabeth Grey is one of the king's best witch hunters, devoted to rooting out witchcraft and doling out justice. But when she's accused of being a witch herself, Elizabeth is arrested and sentenced to burn at the stake.
Salvation comes from a man she thought was her enemy. Nicholas Perevil, the most powerful and dangerous wizard in the kingdom, offers her a deal: he will save her from execution if she can break the deadly curse that's been laid upon him.
But Nicholas and his followers know nothing of Elizabeth's witch hunting past--if they find out, the stake will be the least of her worries. And as she's thrust into the magical world of witches, ghosts, pirates, and one all-too-handsome healer, Elizabeth is forced to redefine her ideas of right and wrong, of friends and enemies, and of love and hate.
Virginia Boecker weaves a riveting tale of magic, betrayal, and sacrifice in this unforgettable fantasy debut.
I received a copy of this book for review from the publisher, this does not influence my review.
I've read my fair share of books about witches, but I haven't read a book about a witch hunter before, and The Witch Hunter was definitely an interesting read that mixes magic with a coming-of-age theme.
Elizabeth and Caleb have been best friends since they were both little, and have grew up into witch hunters together. They were trained by Blackwell, a notorious witch hunter, who is strict on all of his hunters and the witches they catch. When Elizabeth is arrested, her only hope can be found with Nicholas Perevil, the most dangerous wizard in the entire kingdom. Elizabeth struggles to figure out if Nicholas is really as dangerous as Blackwell taught her, and if witchcraft is really something to hate.
I liked Elizabeth and how tough she was. Sure, at some points she fell down and failed but I liked that she got back up and came back fighting in full force. She rarely gave up and kept on trying, even when she thought hope was lost. However,  her interactions with other characters felt a bit forced and the supporting characters felt a bit too one-dimensional to me. I didn't find them to have genuine personalities and they didn't seem all that realistic.
I wasn't a big fan of the romance as well, it wasn't really that swoony or special. I didn't really see a big spark between John and Elizabeth and I wasn't rooting for them to be together. I actually rooted for another character and Elizabeth, as it seemed that they had more of a history.
Besides the problems with some of the characters, I enjoyed the magic elements and the plot. The historical aspects were pretty interesting and I liked to see how witch-hunting was incorporated into the story. It was also fascinating to see the subplots of good vs. evil and what it really means to be either/or.
Overall, The Witch Hunter is an interesting debut novel. I recommend it for fans looking to get more into fantasy novels and for those looking for an exciting new series!
Related Posts