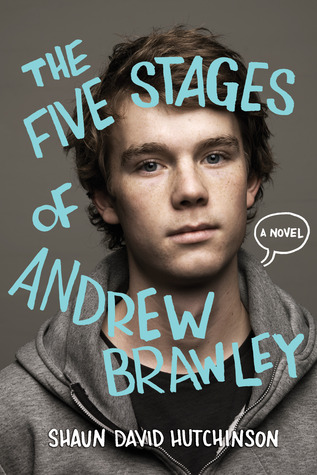 The Five Stages of Andrew Brawley
by Shaun David Hutchinson

Published by
Simon Pulse
Genres: Contemporary, LGBT, YA, Young Adult

Pages: 297

Goodreads
---
Andrew Brawley was supposed to die that night. His parents did, and so did his sister, but he survived.
Now he lives in the hospital. He serves food in the cafeteria, he hangs out with the nurses, and he sleeps in a forgotten supply closet. Drew blends in to near invisibility, hiding from his past, his guilt, and those who are trying to find him.
Then one night Rusty is wheeled into the ER, burned on half his body by hateful classmates. His agony calls out to Drew like a beacon, pulling them both together through all their pain and grief. In Rusty, Drew sees hope, happiness, and a future for both of them. A future outside the hospital, and away from their pasts.
But Drew knows that life is never that simple. Death roams the hospital, searching for Drew, and now Rusty. Drew lost his family, but he refuses to lose Rusty, too, so he's determined to make things right. He's determined to bargain, and to settle his debts once and for all.
But Death is not easily placated, and Drew's life will have to get worse before there is any chance for things to get better.
I borrowed this book from my library, that does not influence the contents of my review.
I heard amazing things about The Five Stages of Andrew Brawley and of course, I had to give it a chance. Of course, I do not regret this decision one bit, The Five Stages of Andrew Brawley was a spectacular book!
Andrew Brawley is living in a hospital. His parents died and it was all his fault. He has nowhere to go and his parents are in the hospital- so he stays. But when Rusty ends up in the ER, half his body burned by his horrid classmates, Andrew feels hope for himself. But things at the hospital get more complicated, and Andrew is worried that Death will inevitably find him.
The Five Stages of Andrew Brawley is definitely a unique book. Not only is the writing unique and definitely real, there are illustrations throughout the book- which is just magical. Mixed media books are 10000% one of my favourite things. I loved the illustrations and what they added to the book.
I think my favourite thing about The Five Stages is the side characters. Lexi and Trevor, Andrew's friends, were my favourite characters and I just loved reading about them. They did make me tear up a couple of times and I just wanted to hug them all. The world-building was also phenomenal. Which is a bit odd to say about a book revolving around a hospital, but it's important to mention how easily I could picture the hospital setting, which is super important. A plot revolving a hospital has to feel like the character is in a hospital!
The romance was also pretty great. As readers, we don't really see a lot of the build-up between the moments the characters meet and when they end up liking each other, but I think it worked pretty well in The Five Stages. It wasn't hard for me to see the sparks between Andrew and Rusty, and I loved reading every moment.
Overall, The Five Stages of Andrew Brawley is a phenomenal book that I high recommend, TO EVERYONE! *cackles* *throws a copy of this book at all blog readers* Okay, Okay, I'm done.
Related Posts