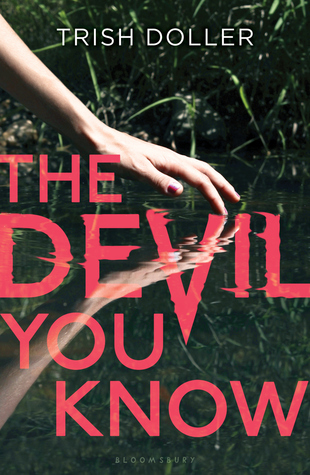 The Devil You Know
by Trish Doller

Published by Bloomsbury, Bloomsbury USA Children
on June 2nd 2015

Genres: Contemporary, Fiction, Mystery, Thriller, YA, Young Adult

Pages: 256

Goodreads
---
Eighteen-year-old Arcadia wants adventure. Living in a tiny Florida town with her dad and four-year-old brother, Cadie spends most of her time working, going to school, and taking care of her family. So when she meets two handsome cousins at a campfire party, she finally has a chance for fun. They invite her and friend to join them on a road trip, and it's just the risk she's been craving-the opportunity to escape. But what starts out as a fun, sexy journey quickly becomes dangerous when she discovers that one of them is not at all who he claims to be. One of them has deadly intentions.
A road trip fling turns terrifying in this contemporary story that will keep readers on the edge of their seats.
I received this book from the publisher for review, this does not influence the contents of my review.
I will admit, I picked up this book because of the amazing things I've heard about Trish Doller, and her books all seem amazing (okay, and the cover to this one is awesome). And damn, I do not regret it one bit because The Devil You Know was just plain awesome.
Arcadia, Cadie, has always wanted to see the world. She's feeling cooped up in her small Florida town and when two handsome cousins enter the scene, she joins them on their roadtrip adventure. But when she learns that one of them may have a dangerous past, things take a twisty turn. The Devil You Know is a thrilling and suspenseful read.
I loved Cadie and her personality was just amazing. She was sassy and awesome and felt so genuine to me. She made mistakes and as a teen, she realized that she made mistakes. It was amazing to read a thriller with a genuine teenage voice. I also loved how she was a feminist, and didn't stand for any shit from the male characters. (I thought that was definitely pretty awesome)
The romance is definitely a bit tricky in The Devil You Know. The two cousins, Matt and Noah are both similar in appearance but have different personalities. Noah is very sweet with a rocky past while Matt is definitely adorable and funny. Cadie gravitated towards one of the cousins but there is still a definite tension between both cousins and Cadie. It was interesting to read how this love-triangle was handled in a way that didn't seem to stick to the usual tropes of love-triangles, but still had the appearance of one (if that makes sense).
The plot in The Devil You Know was INTENSE. I planned to read the first 10 pages to get a glimpse of it but I ended up reading all the way to 30% before I had to go to sleep. When I started reading again, I could not stop. The plot in the beginning was a bit slow but the writing just hooked me in. Near the end, The Devil You Know took an awesome turn and I could not tear my eyes away. I was yelling and gasping along with the characters and I just needed to know how it ends!
Overall, The Devil You Know is a great thriller that I could not put down! I really connected to Cadie and I loved reading every word of the book. I recommend it to fans of Dangerous Boys by Abigail Haas, or anybody looking for an awesome new contemporary thriller!
Related Posts