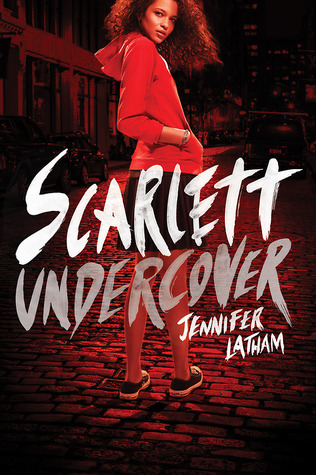 Scarlett Undercover
by Jennifer Latham

Published by
Little Brown Books for Young Readers
on May 19th 2015

Genres: Contemporary, Mystery, Romance, Thriller, YA, Young Adult

Pages: 320

Goodreads
---
A voice-driven mystery perfect for fans of Veronica Mars.
Meet Scarlett, a smart, sarcastic, kick-butt, Muslim American heroine, ready to take on crime in her hometown of Las Almas. When a new case finds the private eye caught up in a centuries-old battle of evil genies and ancient curses, Scarlett discovers that her own family secrets may have more to do with the situation than she thinks -- and that cracking the case could lead to solving her father's murder.
Jennifer Latham delivers a compelling story and a character to remember in this one-of-a-kind debut novel.
I received a copy of this book for review from the publisher, this does not influence my review! 
This is basically all you need to know about this book: a Muslim-American Veronica Mars. Based on that description alone, I needed this book. Seriously, a diverse debut with all the snark and wit of Veronica Mars, I NEEDED IT. And I'm super glad that Scarlett Undercover did not disappoint!
Scarlett has been an orphan for the last couple of years. With her sister now doing her residence for medical school and having already completed her GED, Scarlett is doing some private investigation. When a little girl shows up concerned about her brother's friend, Scarlett will uncover that this mystery may relate to her own family's dark past. Scarlett Undercover is about a snarky teen trying to connect her past to a current case, and it's awesome.
I really liked the plot. Sure, it wasn't the most twisty or unpredictable, but it was fast-paced, action-packed and dam entertaining! I flew by the book and I read it all in one sitting, it was so thrilling! The book starts off right away with Scarlett interviewing a new client, there is no preamble, there is no "this is my life…", it just starts!
There is also a romance in Scarlett Undercover and while the novel starts off already with the romance in place, I really liked it. It was definitely swoony and I was totally rooting for Scarlett and Deck. All the characters in Scarlett Undercover were fully-developed and I loved them all!
Scarlett was an amazing main character, she was witty and snarky and I really loved her! I cheered along with her and I rooted for her the entire time. She was one kick-ass character and knew how to handle herself, which is definitely awesome.
Overall, Scarlett Undercover was an entertaining read that kept me hooked until the last page. I highly recommend it for people looking for an entertaining read that has one snarky and kick-ass diverse character!
Related Posts