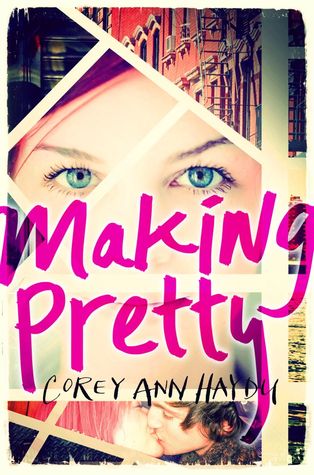 Making Pretty
by Corey Ann Haydu

Published by HarperCollins, Katherine Tegen Books
on May 12th 2015

Genres: Contemporary, YA, Young Adult

Pages: 368

Goodreads
---
Montana and her sister, Arizona, are named after the mountainous states their mother left them for. But Montana is a New York City girl through and through, and as the city heats up, she's stepping into the most intense summer of her life.
With Arizona wrapped up in her college world and their father distracted by yet another divorce, Montana's been immersing herself in an intoxicating new friendship with a girl from her acting class. Karissa is bold, imperfectly beautiful, and unafraid of being vulnerable. She's everything Montana would like to become. But the friendship with Karissa is driving a wedge between Montana and her sister, and the more of her own secrets Karissa reveals, the more Montana has to wonder if Karissa's someone she can really trust.
In the midst of her uncertainty, Montana finds a heady distraction in Bernardo. He's serious and spontaneous, and he looks at Montana in the way she wants to be seen. For the first time, Montana understands how you can become both lost and found in somebody else. But when that love becomes everything, where does it leave the rest of her imperfect life?
I received a copy of this book from the publisher, this does not influence my review. 
This book totally brought me out of a book slump. Making Pretty sucked me in and totally wouldn't let me go.
Montana is the daughter of Sean Varren, plastic surgeon and divorcee known for falling in love too quickly. Montana's sister and best friend have gone away to college and being left behind has left a hole in her life. And that hole soon gets filled up by Karissa, the cool and spunky twenty-three year old that Montana met in their acting class. When Montana's summer gets more complicated and definitely more romantic- with the introduction of Bernardo, the cute guy who sits across from her in the park- Montana has to figure out herself and what lies ahead in her future.
I really enjoyed Making Pretty. The characters are flawed, fleshed-out and definitely experience lots of growth by the end of the novel. Montana felt very real, and while she is definitely not your clear-cut teen, I loved reading her point of view. She has to struggle with dealing with her dad's new girlfriend, her relationship with her sister, and her dad. As a plastic surgeon, he's  always finding imperfections and trying to fix them- even when it comes to his own daughters.
The plot was very fast-paced, and I loved it. I'm struggling to even describe Making Pretty, it was too good. For once, I really enjoyed the romance. It was quirky and intense and very great in a way that can only be experienced through reading the book. I really enjoyed it and Bernardo was definitely a swoon-worthy character.
Overall, Making Pretty is in no-way your typical summer contemporary, and that's what makes it unique. The characters are flawed, the plot is way intense and every sentence is carefully written in a way that makes every thought seem magical. I highly recommend Making Pretty to contemporary lovers looking for a break from the summer books that end in people making out and living "happily ever after".
Related Posts