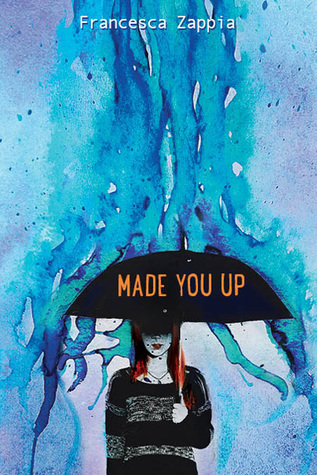 Made You Up
by Francesca Zappia

Published by
Greenwillow
on May 19th 2015

Genres: Contemporary, Fiction, General, Romance, YA, Young Adult

Pages: 448

Goodreads
---
Reality, it turns out, is often not what you perceive it to be—sometimes, there really is someone out to get you. Made You Up tells the story of Alex, a high school senior unable to tell the difference between real life and delusion. This is a compelling and provoking literary debut that will appeal to fans of Wes Anderson, Silver Linings Playbook, and Liar.
Alex fights a daily battle to figure out the difference between reality and delusion. Armed with a take-no-prisoners attitude, her camera, a Magic 8-Ball, and her only ally (her little sister), Alex wages a war against her schizophrenia, determined to stay sane long enough to get into college. She's pretty optimistic about her chances until classes begin, and she runs into Miles. Didn't she imagine him? Before she knows it, Alex is making friends, going to parties, falling in love, and experiencing all the usual rites of passage for teenagers. But Alex is used to being crazy. She's not prepared for normal.
Funny, provoking, and ultimately moving, this debut novel featuring the quintessential unreliable narrator will have readers turning the pages and trying to figure out what is real and what is made up.
I received this book for review from the publisher, this does not influence my review.
A girl who can't distinguish between reality and delusion? SIGN ME UP. I have read books with characters with mental health complexities but I have yet to read a book with a character who has schizophrenia… until this wonderful beauty.
Alex is schizophrenic, and has been diagnosed as such for the past 7+ years. Her meds help and she uses her camera to help her capture what is really there and what isn't. With a new school and a new job, Alex seems like a normal girl. She just wasn't expecting it.
I loved Made You Up. It is a bit longer than most contemporaries I read but damn, it was so engaging! I literally could not tear myself away, and I definitely ignored tons of schoolwork to read it! Alex was an interesting and compelling main character, she thought similarly to me and the way she spoke seemed very teenager-y (if that's a word), which I loved.
The plot was also engaging and there were definitely some twists, even if it this book is pitched as a schizophrenic girl finding some normalcy! The romance was definitely swoony, and I liked that things between Alex and Miles started off a bit rocky, the couples who tease each other and learn to care for one another are the best kind, and the most fun to read about!
In terms of diversity, there were some side character who were POC and the main character herself is pretty diverse in terms of mental health (I mean, schizophrenia!). So I would say that I felt there was diversity. Not a lot, but I think enough that it's more than just all-white-heterosexual characters.
Overall, I think that Made You Up was a fantastic debut novel and I highly recommend it to everyone looking for a unique and compelling read. I can't wait to see more from this author!
Related Posts