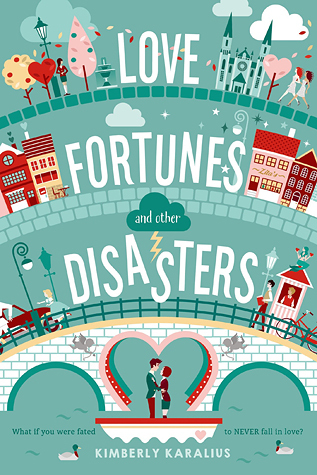 Love Fortunes and Other Disasters
by Kimberly Karalius

on May 12th 2015

Genres: Contemporary, Romance, YA, Young Adult

Pages: 368

Goodreads
---
In the tradition of Alice Hoffman's Practical Magic, one girl chooses to change her fortune and her fate by falling in love.
Love is real in the town of Grimbaud, and Fallon Dupree has dreamed of attending high school there for years. After all, generations of Duprees have successfully followed the (100% accurate!) love fortunes from Zita's famous Love Charms Shop to happily marry their high school sweethearts. It's a tradition. So she is both stunned and devastated when her fortune states that she will NEVER find love.
Fortunately, Fallon isn't the only student with a terrible love fortune, and a rebellion is brewing. Fallon is determined to take control of her own fate—even if it means working with a notorious heartbreaker like Sebastian.
Will Fallon and Sebastian be able to overthrow Zita's tyranny and fall in love?
I received a copy of this book from the publisher, this does not influence my review.
A twinge of magic realism mixed with swoony romance? Sign me up!
Usually, when love fortunes are told- they are expected to be positive and glowing. For Fallon, her fortune is bitter: her love will never be requited. In the town of Grimbaud, love fortunes are a tradition and Fallon's family is graced with awesome luck when it comes to love. But when Zita's Love Shop predicts a horrible future for Fallon, she bands with the other unfortunates of this year to take down Zita and her (100% accurate!) fortunes. Sebastion, the notorious heartbreaker, also joins the band0 he and Fallon develop a connection. Can they find love in a town rooting against them?
I liked the plot of Love Fortunes and Other Disasters, the magic realism of charms and fortunes definitely helped to enhance the plot and the world-building was effective. I also loved the characters, although some felt one dimensional, I liked the wide range of diversity and people.
The romance was a little iffy. I understand that this is a romance novel but the characters annoyed me a bit. They acted all doey-eyed for a good while before anything actually happened and View Spoiler »they said their "I love you"s before even kissing. BEFORE EVEN ONE KISS. Oh and they've only been dating for like two weeks. « Hide Spoiler. Okay, I get that the town of Grimbaud overhypes romance and love, but that doesn't mean that two teenagers know what it is after spending a few weeks together.
Overall, Love Fortunes and Other Disasters is a cute story. I would recommend it for MG readers wanting to start their foray into YA books.
Related Posts