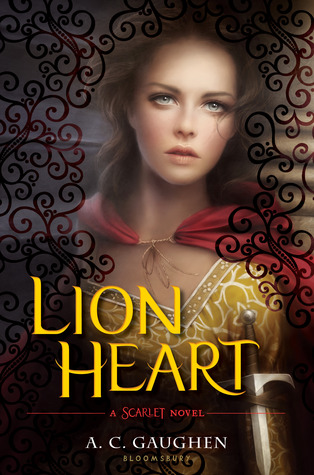 Lion Heart
by A.C. Gaughen

Series:
Scarlet #3
Published by
Bloomsbury USA Children
on May 19th 2015

Genres: Fantasy, Fiction, Retelling, Romance, YA, Young Adult

Pages: 348

Goodreads
---
The eagerly-awaited conclusion to the Scarlet trilogy delivers another action-packed and romance-filled adventure.
Scarlet has captured the hearts of readers as well as the heart of Robin Hood, and after ceaseless obstacles and countless threats, readers will finally find out the fate of the Lady Thief.
Imprisoned by Prince John for months, Scarlet finds herself a long way from Nottinghamshire. After a daring escape from the Prince's clutches, she learns that King Richard's life is in jeopardy, and Eleanor of Aquitaine demands a service Scarlet can't refuse: spy for her and help bring Richard home safe. But fate—and her heart—won't allow her to stay away from Nottinghamshire for long, and together, Scarlet and Rob must stop Prince John from going through with his dark plans for England. They can not rest until he's stopped, but will their love be enough to save them once and for all?
I received a copy of this book from the publisher for review, this does not influence the contents of my review.
I love love LOVE the Scarlet series. And as such, I aim to keep this review spoiler-free for all those who have not read the first book yet (which I hope you will regret by the end of this review).
Basically, the Scarlet series is a glorious retelling of Robin Hood where Will Scarlet, one of Robin Hood's merry men is actually a women, disguising herself as a man to hide from her past. It involves historical retelling, action, kick-assery and all the swoons.
I think a highlight of this series is the romance between Robin Hood and Scarlet. I know, I know, romance is something I usually dislike but c'mon, we are talking a cross-dressing badass and a brooding archer, WHAT IS THERE NOT TO LIKE?! The characters are both so raw and real, and the romance is not seen as a cure-all but rather, something that bonds these characters together and helps them accept themselves. It's wonderful how well the romance develops over the trilogy!
(I apologize for the rambling in this particular review, but I can't not ramble on about this series!)
The plot and writing is also extraordinary. Some parts are a tad slow, but there are always gasps and shocks along the way. The Scarlet trilogy is known for having notorious cliffhangers but Lion Heart ties everything up nicely, which means it's now a perfect time to binge-read the series!
Overall, Lion Heart is the perfect ending to an already wonderful and amazing series! I highly recommend this series to everyone, and I mean EVERYONE!
Related Posts