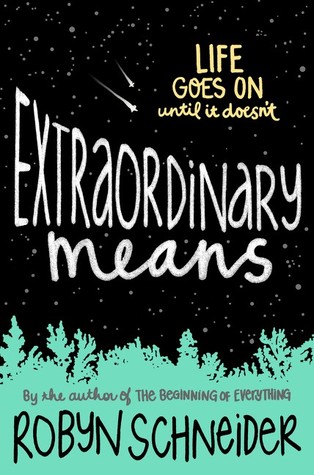 Extraordinary Means
by Robyn Schneider

Published by HarperCollins, Katherine Tegen Books
on May 26th 2015

Genres: Contemporary, Fiction, YA, Young Adult

Pages: 336

Goodreads
---
From the author of The Beginning of Everything: two teens with a deadly disease fall in love on the brink of a cure.
At seventeen, overachieving Lane finds himself at Latham House, a sanatorium for teens suffering from an incurable strain of tuberculosis. Part hospital and part boarding school, Latham is a place of endless rules and confusing rituals, where it's easier to fail breakfast than it is to flunk French.
There, Lane encounters a girl he knew years ago. Instead of the shy loner he remembers, Sadie has transformed. At Latham, she is sarcastic, fearless, and utterly compelling. Her friends, a group of eccentric troublemakers, fascinate Lane, who has never stepped out of bounds his whole life. And as he gradually becomes one of them, Sadie shows him their secrets: how to steal internet, how to sneak into town, and how to disable the med sensors they must wear at all times.
But there are consequences to having secrets, particularly at Latham House. And as Lane and Sadie begin to fall in love and their group begins to fall sicker, their insular world threatens to come crashing down. Told in alternating points of view, Extraordinary Means is a darkly funny story about doomed friendships, first love, and the rare miracle of second chances.
I received a copy of this book from the publisher for review, this does not influence my review.
I enjoyed Robyn Schneider's debut, The Beginning of Everything and when I heard about her latest book, I decided to give this one a shot!
Lane and Sadie are both residents of Latham house, a sanatorium for teens with a strand of tuberculosis that no modern medicine can cure. Lane feels as if Latham house is another burden he has to bear with his SAT prep, his AP classes and rigorous school activities. Sadie, on the other hand, has been at Latham over a year and has accepted the relaxed schedule and has found her own group of friends. When Lane and Sadie cross paths again (for they once attended a summer camp together at age 13), can they find a second chance?
I think Extraordinary Means is an interesting title. The plot is unique, there isn't too much to the plot and most of the book is very character-driven and internalized. The romance between Lane and Sadie was interesting and cute, and had some elements of insta-lust, but not insta-love.
The main characters each had a unique perspective but their voices sounded similar at times. I usually figured out who was who pretty quickly but as some points, I did have to go back and check who's POV I was reading from. Lane and Sadie were definitely different as people. Lane was trying to look out for his future because of his high expectations for himself but Sadie was living in the present, having moved on from her old life in outside.
In terms of the world building, I thought that it was interesting how the characters reflected on the world around them- and the implications of having an incurable strain of TB. They were treated pretty poorly, and people were paranoid about being near them even though they weren't as contagious, it was just part of the societal paranoia.
Extraordinary Means was awesome in terms of diversity. Sadie and Lane had a diverse group of friends, with people of different ethnicities, races and sexual orientations. The main characters weren't as diverse, but at least the characters in the novel felt like they genuinely existed, and that they were real people.
Overall, Extraordinary Means was a pretty awesome sophomore novel from Robyn Schneider. I look forward to reading more from her, and having more people read her latest book.
Related Posts