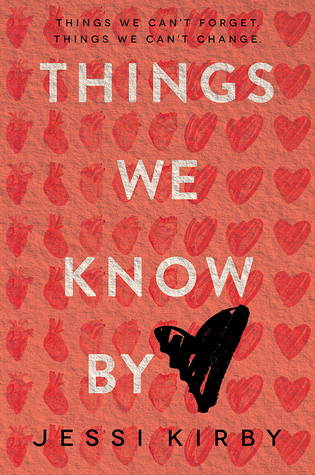 Things We Know by Heart
by Jessi Kirby

Published by
HarperTeen
on April 21st 2015

Genres: Contemporary, Fiction, Romance, YA, Young Adult

Goodreads
---
When Quinn Sullivan meets the recipient of her boyfriend's donated heart, the two form an unexpected connection.
After Quinn loses her boyfriend, Trent, in an accident their junior year, she reaches out to the recipients of his donated organs in hopes of picking up the pieces of her now-unrecognizable life. She hears back from some of them, but the person who received Trent's heart has remained silent. The essence of a person, she has always believed, is in the heart. If she finds Trent's, then maybe she can have peace once and for all.
Risking everything in order to finally lay her memories to rest, Quinn goes outside the system to track down nineteen-year-old Colton Thomas—a guy whose life has been forever changed by this priceless gift. But what starts as an accidental run-in quickly develops into more, sparking an undeniable attraction. She doesn't want to give in to it—especially since he has no idea how they're connected—but their time together has made Quinn feel alive again. No matter how hard she's falling for Colton, each beat of his heart reminds her of all she's lost…and all that remains at stake.
I received an electronic copy of this book. This does not effect the contents of my review!
I am a huge contemporary fan, and when I heard about this unique-sounding novel, I had to request it! Quinn's boyfriend passed away over a year ago, and now she is searching for the person who received his heart through an organ donation. But when she finally meets Colton, the person who has his heart, she is unsure what to think. As Quinn and Colton get to know each other better, Quinn is forced to remember what she lost.
Quinn's story was very moving, and a little depressing. But still, I am not sure how I truly feel about Things We Know by Heart. I liked the plot, and the flashbacks and character development were definitely well-written but I feel like something is missing. I think it's the lack of connection I had with the main character.  I could really see her pain, but I couldn't really relate to it. I understand heartbreak and loss, but it was hard for me to find a connection between Quinn and my life.
I liked the plot, and how the ending wrapped everything up. Things We Know by Heart is very romance-driven and the romance between Colton and Quinn was very swoony indeed. I liked all of their interactions, and the author did an amazing job of describing much of the emotions that Quinn felt.
In general, Things We Know by Heart is a great novel surrounding grief, moving on, and learning to love again. I enjoyed reading it, despite having some problems connecting with the main character.  I recommend it for contemporary fans looking to read a novel about a girl who's struggling to focus on the future- instead of letting go of the past.
Related Posts