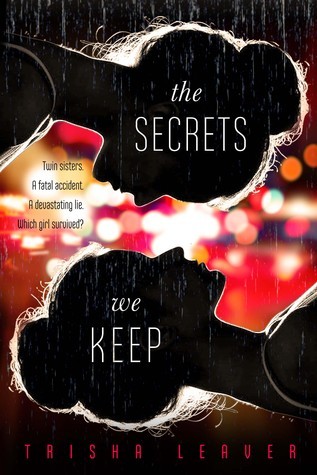 The Secrets We Keep
by Trisha Leaver

Published by Farrar Straus Giroux, MacMillian
on April 28 2015

Genres: Contemporary, Fiction, YA, Young Adult

Pages: 304

Goodreads
---
A girl takes over her twin sister's identity in this emotionally charged page-turner about the complicated bond between sisters.
Ella and Maddy Lawton are identical twins. Ella has spent her high school years living in popular Maddy's shadows, but she has never been envious of Maddy. In fact, she's chosen the quiet, safe confines of her sketchbook over the constant battle for attention that has defined Maddy's world.
When—after a heated argument—Maddy and Ella get into a tragic accident that leaves her sister dead, Ella wakes up in the hospital surrounded by loved ones who believe she is Maddy. Feeling responsible for Maddy's death and everyone's grief, Ella makes a split-second decision to pretend to be Maddy. Soon, Ella realizes that Maddy's life was full of secrets. Caught in a web of lies, Ella is faced with two options—confess her deception or live her sister's life.
I received a copy of this book from the publisher, this does not influence my review.
I have to start this review stating my own bias: I have a twin, and this heavily influences the way I read The Secrets We Keep. But let me back up first, what is The Secrets We Keep actually about?
Maddy and Ella are twins as different as night and day, although they look identical. One night, Ella picks up Maddy from a party and after a fight, Ella accidentally crashes the car. Maddy is killed in the accident. Consumed by guilt, Ella assumes Maddy's identity because she feels that's the right way to honour her sister's memory. When Ella discovers shocking details in Maddy's past, will she reveal who she is or will she go on with the charade?
I have to admit that the premise of The Secrets We Keep was intriguing. I'm not a huge fan of books featuring twins but I thought this seemed pretty unique. However, reading The Secrets We Keep made me feel a little uncomfortable. As a twin, I value my individuality. I cut my hair short so people will stop confusing me for my sister (although I usually deny this fact). I like being a complete separate person from my sister. Twins are often seen as one and the same, and this misconception has followed me through much of school. I like that I share different interests than my sister, and I treasure the parts of my personality that make me different than her. So when I read how Ella was willing to just assume Maddy's place, it made me uncomfortable. How could someone who's spent majority of her life being confused for someone else, willingly give up her individuality? I understand the guilt, it's hard to recover from causing the death of a sibling-especially a twin- but I can't relate to how Ella decided to cope with her guilt.
I also can't understand how no one realized it was Ella. In the book, there are no flashbacks of Ella and Maddy ever getting mixed up (i.e. people can't tell which twin is which) so why is Ella able to pull off this plan in the first place? The book does mention that they look similar enough for Ella to sometimes write Maddy's tests (don't get me started on this either) but then- how come no one ever confused the two of them? I think that slight background information does not seem clear enough for me to buy the plan that Ella took.
The plot was fast-paced though which I definitely liked. The romance was also pretty okay, and I definitely did like the love interest. My main concern is with the main character and how I couldn't relate to her.
Overall, The Secrets We Keep is an interesting take on dealing with grief and the bonds between siblings but unfortunately, I just couldn't relate to the main character. I still definitely recommend it for people looking for an emotionally charged new book.
Related Posts