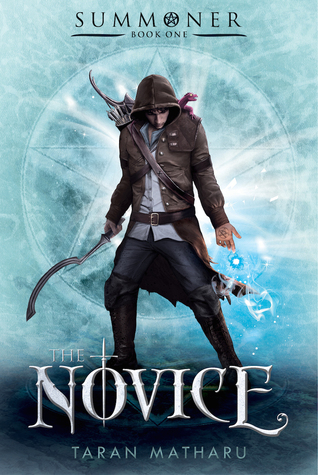 The Novice
by Taran Matharu

Series:
Summoner #1
Published by Feiwel & Friends, MacMillian
on May 5th 2015

Genres: Fantasy, Fiction, Paranormal, YA, Young Adult

Pages: 368

Goodreads
---
When blacksmith apprentice Fletcher discovers that he has the ability to summon demons from another world, he travels to Adept Military Academy. There the gifted are trained in the art of summoning. Fletcher is put through grueling training as a battlemage to fight in the Hominum Empire's war against orcs. He must tread carefully while training alongside children of powerful nobles. The power hungry, those seeking alliances, and the fear of betrayal surround him. Fletcher finds himself caught in the middle of powerful forces, with only his demon Ignatius for help.
As the pieces on the board maneuver for supremacy, Fletcher must decide where his loyalties lie. The fate of an empire is in his hands. The Novice is the first in a trilogy about Fletcher, his demon Ignatius, and the war against the Orcs.
I received a copy of this book from the publisher, this does not influence my review.
DNF at 10%.
Okay, I really hate DNFing books, I really do. But after spending 4 days attempting to read and just wasting my time, I had to DNF. I love character driven books. If I can't connect to a character, I can't enjoy a book.
Maybe I'm just being picky, but The Novice just really wasn't a Shelly book. As far as I've read, the only thing I know about the main character is that he's picked on and the world he lives in is under some war with Orcs (which frankly, just reminds me of Lord of the Rings). All I understood is that he's an underdog, and even with that tidbit- I can predict what will happen next.
The writing wasn't bad but I just didn't feel overly engaged. 3rd person point-of-view can work really well, but when it's used to just describe the bullies and introduce the Experienced Old Person Who Sets the Character On His Journey, I just can't get into it.
I still would suggest for fantasy lovers to give it a chance, it's just definitely not a book for me.
Related Posts