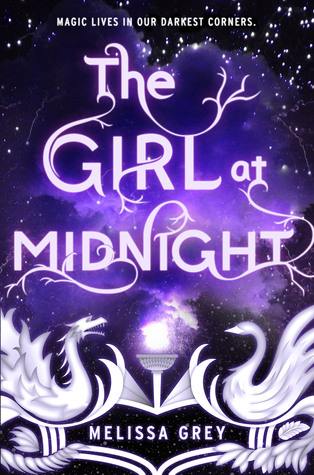 The Girl at Midnight
by Melissa Grey

Series:
The Girl at Midnight #1
Published by
Delacorte
on April 28th 2015

Genres: Fantasy, YA, Young Adult

Pages: 368

Goodreads
---
For readers of Cassandra Clare's City of Bones and Leigh Bardugo'sShadow and Bone, The Girl at Midnight is the story of a modern girl caught in an ancient war.
Beneath the streets of New York City live the Avicen, an ancient race of people with feathers for hair and magic running through their veins. Age-old enchantments keep them hidden from humans. All but one. Echo is a runaway pickpocket who survives by selling stolen treasures on the black market, and the Avicen are the only family she's ever known.
Echo is clever and daring, and at times she can be brash, but above all else she's fiercely loyal. So when a centuries-old war crests on the borders of her home, she decides it's time to act.
Legend has it that there is a way to end the conflict once and for all: find the Firebird, a mythical entity believed to possess power the likes of which the world has never seen. It will be no easy task, but if life as a thief has taught Echo anything, it's how to hunt down what she wants . . . and how to take it.
But some jobs aren't as straightforward as they seem. And this one might just set the world on fire.
I received a copy of this book from the publisher, this does not influence my review.
I'm not a huge fantasy fan but with so much praise surrounding this debut, I decided to give it a chance, and I'm definitely glad I did! The Girl at Midnight definitely manages to combine fantastic world-building with a thrilling plot to make one hell of a debut novel.
Echo had been living with the Avicen, a feather-covered species that stayed in the burrows of New York, since her early childhood. But being a human has still marred her as an outsider that just doesn't belong. But she considers herself close-to-home with the Avicen and when the opportunity arrives to possible bring about peace for the Avicen and their enemies, Echo goes to search for this elusive legend. Soon, an unlikely band of misfits emerge to find The Firebird, and hopefully help everyone they know. Essentially, it's a recipe for awesome.
I loved Echo. She is definitely the sassy, well-read and kick-ass individual I wish I could be. She's not afraid to stand up for her friends and to do what's right, even when she's cowering on the inside. Her courage definitely made The Girl at Midnight more enjoyable. I also loved the side characters. The 3rd person point-of-view definitely made me feel like I knew all of the characters really well. The characters were all really well-developed and fleshed-out and I immensely liked it.
My only problems with The Girl at Midnight were the beginning and the romance. It took me a while to get really into The Girl at Midnight, but it was definitely worth reading once it picked up a little. I am iffy with the romance because while I enjoyed it overall, it irked me at certain parts that made me want to yell at Echo.
Overall, The Girl at Midnight was a wonderful debut that I highly encourage all fantasy and hesitant YA readers to give it a try!
Favourite Quote
"Books didn't give her dirty looks of whisper snide comments under their breath. Books didn't judge." (Page 21 of eARC)
Related Posts