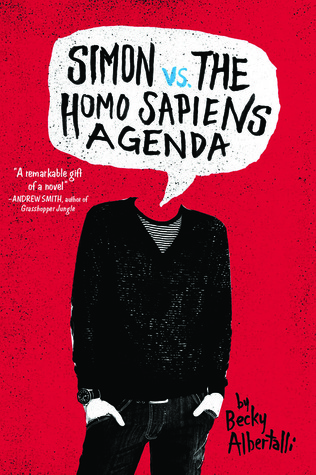 Simon vs. the Homo Sapiens Agenda
by Becky Albertalli

on April 7th 2015

Genres: Contemporary, Fiction, General, LGBT, Romance, YA, Young Adult

Pages: 320

Goodreads
---
Sixteen-year-old and not-so-openly gay Simon Spier prefers to save his drama for the school musical. But when an email falls into the wrong hands, his secret is at risk of being thrust into the spotlight. Now Simon is actually being blackmailed: if he doesn't play wingman for class clown Martin, his sexual identity will become everyone's business. Worse, the privacy of Blue, the pen name of the boy he's been emailing, will be compromised.
With some messy dynamics emerging in his once tight-knit group of friends, and his email correspondence with Blue growing more flirtatious every day, Simon's junior year has suddenly gotten all kinds of complicated. Now, change-averse Simon has to find a way to step out of his comfort zone before he's pushed out—without alienating his friends, compromising himself, or fumbling a shot at happiness with the most confusing, adorable guy he's never met.
A huge thanks to Jaime at Fic Fare for giving me her extra ARC!
When I first read the synopsis for Simon vs. the Homo Sapiens Agenda, I was hooked. A cute LGBT with many references to Oreos? SIGN ME UP!
You guys don't know how happy I am that I loved Simon vs. the Homo Sapiens Agenda so much. I am eagerly waiting for my pre-order so I can re-read it again.
Simon and Blue have been emailing for a while now. When someone threatens to expose Blue and Simon (who are both not-openly gay), Simon has to struggle to deal with the threat to his newfound happiness, and learn to get out of his comfort zone. *Oh and they email somewhat-anonymously so Simon has no idea who Blue is, which is always fabulous*
First off, the characters are just wonderful. I loved reading about Simon and his cute story with Blue. Gahhhh, I shipped them SO HARD! Their emails had me laughing and smiling so hard, I just wanted to press their cute heads together. The mystery surrounding who Blue is was just a delight to read and even though I guessed who it was before it was revealed, it was still SO CUTE to read it.
Secondly, THE ROMANCE. Wait, I think already talked about it. Uhm what else? Simon, himself! Simon is a great protagonist. Fond of cute boys and oreos, I'm pretty sure we would be best friends.
Overall, Simon vs. the Homo Sapiens Agenda is a great new wonderful debut that basically makes me want to hug everyone in the book. I can't wait for everyone to read it and I recommend it to EVERYONE. It's a cute love story but also has moments of thoughtful conversation about our society and what it means to be different.
Related Posts