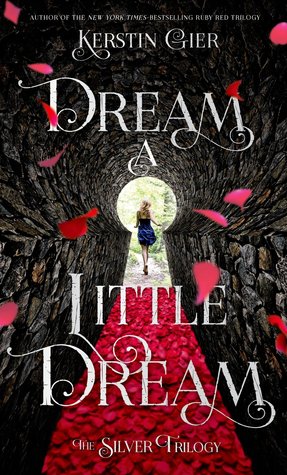 Dream A Little Dream
by Kerstin Gier

Series:
Silver #1
Published by Henry Holt and Co., MacMillian
on April 14th 2015

Genres: Fantasy, Romance, Translation, YA, Young Adult

Pages: 336

Goodreads
---
Mysterious doors with lizard-head knobs. Talking stone statues. A crazy girl with a hatchet. Yep, Liv's dreams have been pretty weird lately. Especially this one where she's in a graveyard at night, watching four boys perform dark magic rituals.
The really weird thing is that Liv recognizes the boys in her dream. They're classmates from her new school in London, the school where's she's starting over because her mom has moved them to a new country (again). But they seem to know things about her in real life that they couldn't possibly know, which is mystifying. Then again, Liv could never resist a good mystery. . . .
I received a copy of this book from the publisher for review. This does not influence my review.
I loved the premise of Dream A Little Dream. I mean, meeting people in your dreams that you haven't met before and then recognizing them at a new school the next day? Seems pretty awesome!
When Olivia (Liv) moves to London and starts school at the prestigious Frognal Academy, things get … mysterious. She starts having dreams featuring the resident "popular boys" from her school in her dreams. But when they seem to share dreams and remember her all the same, things get a little tricky. Basically, it sounds like a recipe for greatness.
I loved the plot of Dream A Little Dream. It was a little slow at first but when the action picked up, the book flew by! The world building was amazing and I really liked the dream world and how it worked. The world was amazing, and I'd totally want to see myself in it!
The supporting characters were also great, and I really liked their depth and uniqueness. The romance was a little iffy for me, however, and had the two character proclaiming love by the end of the book. I liked Henry, the love interest, because he contained the right amount of mystery and cuteness but I just didn't really see how Liv grew to like him in less than two months.
Overall, I really liked Dream A Little Dream and I'm definitely looking forward to the sequel. According to the author's note at the end of the book, we haven't seen the last of Liv, and I'm definitely excited about that!
Related Posts