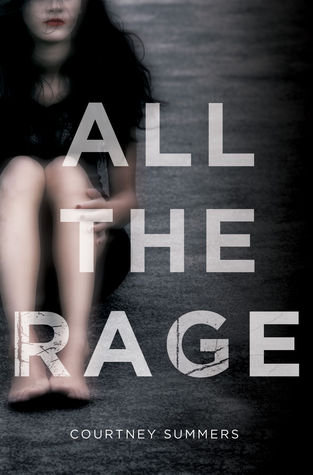 All the Rage
by Courtney Summers

Published by MacMillian, St. Martin's Press
on April 14th 2015

Genres: Contemporary, Mystery, YA, Young Adult

Pages: 336

Goodreads
---
The sheriff's son, Kellan Turner, is not the golden boy everyone thinks he is, and Romy Grey knows that for a fact. Because no one wants to believe a girl from the wrong side of town, the truth about him has cost her everything—friends, family, and her community. Branded a liar and bullied relentlessly by a group of kids she used to hang out with, Romy's only refuge is the diner where she works outside of town. No one knows her name or her past there; she can finally be anonymous. But when a girl with ties to both Romy and Kellan goes missing after a party, and news of him assaulting another girl in a town close by gets out, Romy must decide whether she wants to fight or carry the burden of knowing more girls could get hurt if she doesn't speak up. Nobody believed her the first time—and they certainly won't now — but the cost of her silence might be more than she can bear.
With a shocking conclusion and writing that will absolutely knock you out,All the Rage examines the shame and silence inflicted upon young women after an act of sexual violence, forcing us to ask ourselves: In a culture that refuses to protect its young girls, how can they survive?
I received a copy of this book from the publisher, this does not influence the contents of my review.
I am a huge contemporary fan but I am vastly behind on reading books revolving deeper issues, as I tend to stray towards light and fluffy ones. As I realize that books help shield some horrors from the world, there are some topics that we can't ignore, like rape and victim blaming.
When Romy Grey gets raped by the son's sheriff, no one believes her. To protect their golden boy, the entire town shuns Romy and refuses to believe her. When Romy's old friend, Penny, goes missing, Romy must piece the parts of her past in order to figure out what that means for Penny and what she lost.
All the Rage was definitely not an easy book to read. Topics like this never are. But nevertheless, I read on. Despite the unpleasant topic, I found myself wanting to keep reading. I thought the plot and writing was brilliant. The writing included a lot of sentence fragments that really portrayed the inside of a teenager's mind, confusing and distant. Sometimes to the point of wanting to hide true emotions.
Everything about All the Rage was done brilliantly and poetically, and I don't think anything I say will do it justice. If you're looking for a thought-provoking new novel about society and what it really means to be a teenage girl, I highly recommend All the Rage.
Related Posts