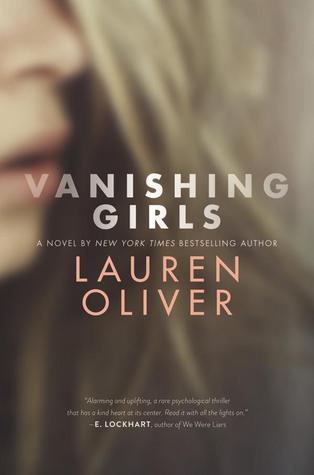 Vanishing Girls
by Lauren Oliver

Published by
HarperCollins
on March 10th 2015

Genres: Contemporary, Mystery, Thriller, YA, Young Adult

Pages: 368

Goodreads
---
New York Times bestselling author Lauren Oliver delivers a gripping story about two sisters inexorably altered by a terrible accident.
Dara and Nick used to be inseparable, but that was before the accident that left Dara's beautiful face scarred and the two sisters totally estranged. When Dara vanishes on her birthday, Nick thinks Dara is just playing around. But another girl, nine-year-old Madeline Snow, has vanished, too, and Nick becomes increasingly convinced that the two disappearances are linked. Now Nick has to find her sister, before it's too late.
In this edgy and compelling novel, Lauren Oliver creates a world of intrigue, loss, and suspicion as two sisters search to find themselves, and each other.
"Alarming and uplifting, a rare psychological thriller that has a kind heart at its center. Read it with all the lights on." -- E. Lockhart, author of We Were Liars.
I received this book for review from the publisher, this does not influence the contents of my review. 
I went into this book hoping for the best, unfortunately, I think Vanishing Girls isn't the book for me.
A few months after a tragic accident with her sister, Nick starts her summer back in her hometown of Sommerville. As a little girl, Elizabeth Snow, goes missing, the town and country launch into a huge frenzy to find her. At the same time, Nick's sister, Dara, goes missing. Somehow, Nick thinks the two events may be related.
Based on the premise, I was really excited to read Vanishing Girls. It sounds like it has the perfect mix of family relationships and thrilling suspense. Unfortunately, it didn't work out that way for me.
Vanishing Girls was a little slow-paced, and it took me a while to get into it. By the time I did get into it, I already had figured out the plot twist and just wanted to see if I was right. I was also not impressed with the romance, I just didn't really get into it. Some parts were cute but I just wasn't really invested in it. I didn't find myself pining for the characters to end up together, nor did I really care if they were apart.
The plot itself was really interesting though, but I was unimpressed by the fact that I guessed the plot twist pretty early. The writing and character development was still amazing, but less so. I still enjoyed Vanishing Girls, I just don't think it's the book for me. I was expecting more, I guess.
Overall, Vanishing Girls is an interesting new contemporary, it just wasn't for me. However, I do recommend it for people looking for books with a complex character and one that examines sibling relationships closely.
Related Posts