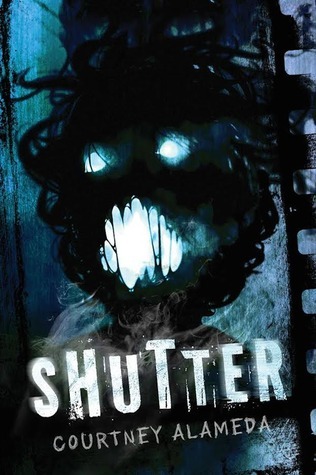 Shutter
by Courtney Alameda

on February 3rd 2015

Genres: Fantasy, Fiction, General, Horror, Paranormal, Thriller, YA, Young Adult

Pages: 384

Goodreads
---
Horror has a new name: introducing Courtney Alameda.
Micheline Helsing is a tetrachromat—a girl who sees the auras of the undead in a prismatic spectrum. As one of the last descendants of the Van Helsing lineage, she has trained since childhood to destroy monsters both corporeal and spiritual: the corporeal undead go down by the bullet, the spiritual undead by the lens. With an analog SLR camera as her best weapon, Micheline exorcises ghosts by capturing their spiritual energy on film. She's aided by her crew: Oliver, a techno-whiz and the boy who developed her camera's technology; Jude, who can predict death; and Ryder, the boy Micheline has known and loved forever.
When a routine ghost hunt goes awry, Micheline and the boys are infected with a curse known as a soulchain. As the ghostly chains spread through their bodies, Micheline learns that if she doesn't exorcise her entity in seven days or less, she and her friends will die. Now pursued as a renegade agent by her monster-hunting father, Leonard Helsing, she must track and destroy an entity more powerful than anything she's faced before . . . or die trying.
Lock, stock, and lens, she's in for one hell of a week.
I received this book for review from the publisher, this does not influence my review or my thoughts on the book.
To be honest, I picked up Shutter because of all the good praise surrounding it, and I'm happy to say that Shutter did not disappoint!
As part of the Helsing family, Micheline has been hunting ghosts for her whole life. With her crew of heart-breaker Jude, hunky Ryder and techy Oliver, Micheline and her friends have been a team for years. But when a hunt goes awry, the crew finds themselves with one week to save themselves- and the city.
I am not lying when I say that the plot was INTENSE! It was twist after twist and the plot was just amazing. I loved it! Within the plot, the romance was great. I'm usually iffy about romance that develops before the book does, but it worked really well in Shutter. I could really feel the connection between Ryder and Micheline and the chemistry between them was just palpable!
Also, the world-building was phenomenal. It was so intricate and a little confusing to get at first but once I did, I was entranced. It was great to see a whole supernatural world built into our world so organically and it was definitely interesting that everyone (in the world) accepted it as valid.
Overall, Shutter was a wonderfully horrific novel about moving on, staying strong and kicking butt. If you're looking for a great new paranormal debut featuring a kick-ass main character, look no further!
Related Posts