Top Ten Tuesday is a feature hosted at The Broke and The Bookish.
For this topic we've chosen different genres! Octavia has decided to do fantasy while I am sticking to my forte of contemporary. Without further ado, here are  Top Ten Books We Can't Believe We Haven't/Want To Read From X Genre! (GoodReads link on book cover)
J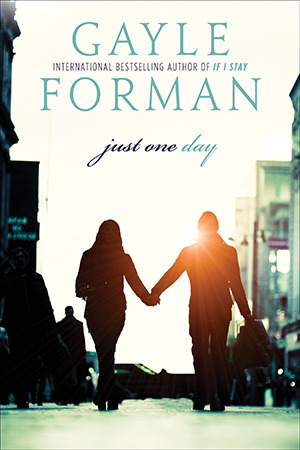 ust One Day by Gayle Forman
From the New York Times bestselling author of If I Stay

Allyson Healey's life is exactly like her suitcase—packed, planned, ordered. Then on the last day of her three-week post-graduation European tour, she meets Willem. A free-spirited, roving actor, Willem is everything she's not, and when he invites her to abandon her plans and come to Paris with him, Allyson says yes. This uncharacteristic decision leads to a day of risk and romance, liberation and intimacy: 24 hours that will transform Allyson's life.

A book about love, heartbreak, travel, identity, and the "accidents" of fate,Just One Day shows us how sometimes in order to get found, you first have to get lost. . . and how often the people we are seeking are much closer than we know.

The first in a sweepingly romantic duet of novels. Willem's story—Just One Year—is coming soon!
The Fault in Our Stars by John Green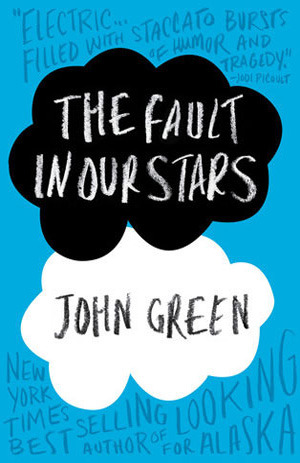 Despite the tumor-shrinking medical miracle that has bought her a few years, Hazel has never been anything but terminal, her final chapter inscribed upon diagnosis. But when a gorgeous plot twist named Augustus Waters suddenly appears at Cancer Kid Support Group, Hazel's story is about to be completely rewritten.

Insightful, bold, irreverent, and raw, The Fault in Our Stars is award-winning author John Green's most ambitious and heartbreaking work yet, brilliantly exploring the funny, thrilling, and tragic business of being alive and in love.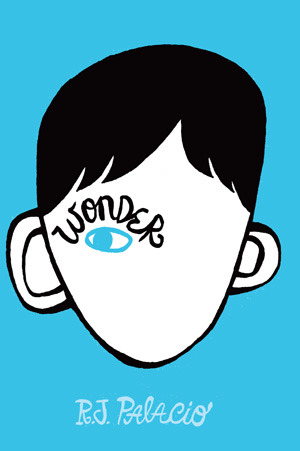 Wonder by R.J Palacio
I won't describe what I look like. Whatever you're thinking, it's probably worse.

August (Auggie) Pullman was born with a facial deformity that prevented him from going to a mainstream school—until now. He's about to start 5th grade at Beecher Prep, and if you've ever been the new kid then you know how hard that can be. The thing is Auggie's just an ordinary kid, with an extraordinary face. But can he convince his new classmates that he's just like them, despite appearances?

R. J. Palacio has written a spare, warm, uplifting story that will have readers laughing one minute and wiping away tears the next. With wonderfully realistic family interactions (flawed, but loving), lively school scenes, and short chapters, Wonder is accessible to readers of all levels.
Something Real by Heather Demetrios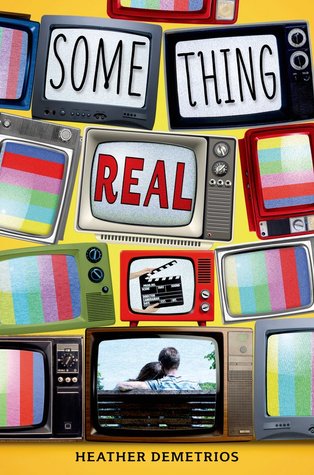 There's nothing real about reality TV.

Seventeen-year-old Bonnie™ Baker has grown up on TV—she and her twelve siblings are the stars of one-time hit reality show Baker's Dozen. Since the show's cancellation and the scandal surrounding it, Bonnie™ has tried to live a normal life, under the radar and out of the spotlight. But it's about to fall apart…because Baker's Dozen is going back on the air. Bonnie™'s mom and the show's producers won't let her quit and soon the life she has so carefully built for herself, with real friends (and maybe even a real boyfriend), is in danger of being destroyed by the show. Bonnie™ needs to do something drastic if her life is ever going to be her own—even if it means being more exposed than ever before.
Where the Stars Still Shine by Trish Doller
Stolen as a child from her large and loving family, and on the run with her mom for more than ten years, Callie has only the barest idea of what normal life might be like. She's never had a home, never gone to school, and has gotten most of her meals from laundromat vending machines. Her dreams are haunted by memories she'd like to forget completely. But when Callie's mom is finally arrested for kidnapping her, and Callie's real dad whisks her back to what would have been her life, in a small town in Florida, Callie must find a way to leave the past behind. She must learn to be part of a family. And she must believe that love–even with someone who seems an improbable choice–is more than just a possibility.

Trish Doller writes incredibly real teens, and this searing story of love, betrayal, and how not to lose your mind will resonate with readers who want their stories gritty and utterly true.
Mistborn by Brandon Sanderson
In a world where ash falls from the sky, and mist dominates the night, an evil cloaks the land and stifles all life. The future of the empire rests on the shoulders of a troublemaker and his young apprentice. Together, can they fill the world with color once more?

In Brandon Sanderson's intriguing tale of love, loss, despair and hope, a new kind of magic enters the stage – Allomancy, a magic of the metals.
Seraphina by Rachel Hartman
In her New York Times bestselling and Morris Award-winning debut, Rachel Hartman introduces mathematical dragons in an alternative-medieval world to fantasy and science-fiction readers of all ages. Eragon-author Christopher Paolini calls them, "Some of the most interesting dragons I've read in fantasy."

Four decades of peace have done little to ease the mistrust between humans and dragons in the kingdom of Goredd. Folding themselves into human shape, dragons attend court as ambassadors, and lend their rational, mathematical minds to universities as scholars and teachers. As the treaty's anniversary draws near, however, tensions are high.

Seraphina Dombegh has reason to fear both sides. An unusually gifted musician, she joins the court just as a member of the royal family is murdered—in suspiciously draconian fashion. Seraphina is drawn into the investigation, partnering with the captain of the Queen's Guard, the dangerously perceptive Prince Lucian Kiggs. While they begin to uncover hints of a sinister plot to destroy the peace, Seraphina struggles to protect her own secret, the secret behind her musical gift, one so terrible that its discovery could mean her very life.
Stormdancer by Jay Kristoff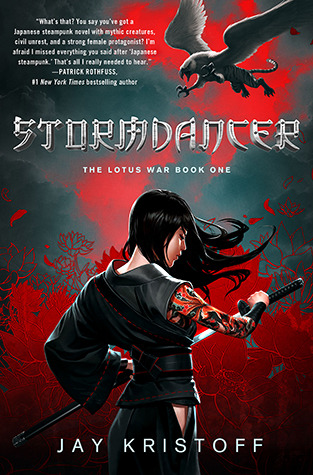 A DYING LAND
The Shima Imperium verges on the brink of environmental collapse; an island nation once rich in tradition and myth, now decimated by clockwork industrialization and the machine-worshipers of the Lotus Guild. The skies are red as blood, the land is choked with toxic pollution, and the great spirit animals that once roamed its wilds have departed forever.

AN IMPOSSIBLE QUEST
The hunters of Shima's imperial court are charged by their Shōgun to capture a thunder tiger – a legendary creature, half-eagle, half-tiger. But any fool knows the beasts have been extinct for more than a century, and the price of failing the Shōgun is death.

A HIDDEN GIFT
Yukiko is a child of the Fox clan, possessed of a talent that if discovered, would see her executed by the Lotus Guild. Accompanying her father on the Shōgun's hunt, she finds herself stranded: a young woman alone in Shima's last wilderness, with only a furious, crippled thunder tiger for company. Even though she can hear his thoughts, even though she saved his life, all she knows for certain is he'd rather see her dead than help her.

But together, the pair will form an indomitable friendship, and rise to challenge the might of an empire.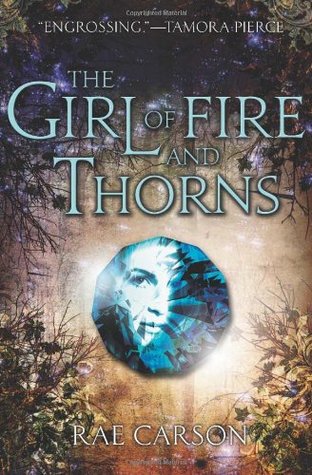 The Girl of Fire and Thorns by Rae Carson
Once a century, one person is chosen for greatness.
Elisa is the chosen one.

But she is also the younger of two princesses, the one who has never done anything remarkable. She can't see how she ever will.

Now, on her sixteenth birthday, she has become the secret wife of a handsome and worldly king—a king whose country is in turmoil. A king who needs the chosen one, not a failure of a princess.

And he's not the only one who seeks her. Savage enemies seething with dark magic are hunting her. A daring, determined revolutionary thinks she could be his people's savior. And he looks at her in a way that no man has ever looked at her before. Soon it is not just her life, but her very heart that is at stake.

Elisa could be everything to those who need her most. If the prophecy is fulfilled. If she finds the power deep within herself. If she doesn't die young.

Most of the chosen do.
Defiance by C.J. Redwine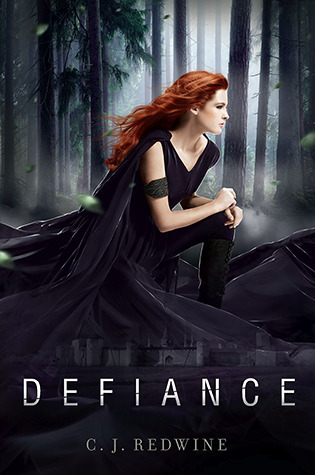 Defiance by C. J. Redwine is rich postapocalyptic YA fantasy perfect for fans of Graceling and Tamora Pierce.

While the other girls in the walled city-state of Baalboden learn to sew and dance, Rachel Adams learns to track and hunt. While they bend like reeds to the will of their male Protectors, she uses hers for sparring practice.

When Rachel's father fails to return from a courier mission and is declared dead, the city's brutal Commander assigns Rachel a new Protector: her father's apprentice, Logan—the boy she declared her love to and who turned her down two years before. Left with nothing but fierce belief in her father's survival, Rachel decides to escape and find him herself.

As Rachel and Logan battle their way through the Wasteland, stalked by a monster that can't be killed and an army of assassins out for blood, they discover romance, heartbreak, and a truth that will incite a war decades in the making.
Related Posts