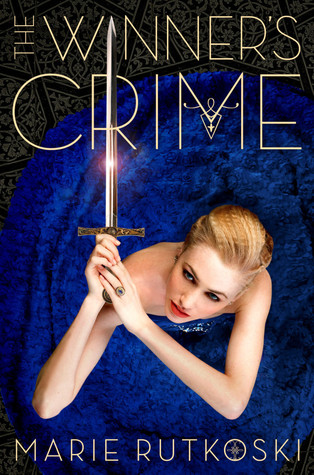 The Winner's Crime
by Marie Rutkoski

Series:
The Winner's Trilogy #2
Published by
Farrar Straus Giroux
on March 3rd 2015

Genres: Action & Adventure, Fantasy, Romance, YA, Young Adult

Goodreads
---
Book two of the dazzling Winner's Trilogy is a fight to the death as Kestrel risks betrayal of country for love.
The engagement of Lady Kestrel to Valoria's crown prince means one celebration after another. But to Kestrel it means living in a cage of her own making. As the wedding approaches, she aches to tell Arin the truth about her engagement…if she could only trust him. Yet can she even trust herself? For—unknown to Arin—Kestrel is becoming a skilled practitioner of deceit: an anonymous spy passing information to Herran, and close to uncovering a shocking secret.
As Arin enlists dangerous allies in the struggle to keep his country's freedom, he can't fight the suspicion that Kestrel knows more than she shows. In the end, it might not be a dagger in the dark that cuts him open, but the truth. And when that happens, Kestrel and Arin learn just how much their crimes will cost them.
I received an electronic copy of this book for review from the publisher. This doesn't effect the contents of my review.
If you've been following me on Twitter, then you probably know what a crazy fangirl I am about the The Winner's Trilogy. Marie Rutkoski delivered again and The Winner's Crime was a fantastic sequel to an amazing book.
If you thought The Winner's Curse was great, hold on to your hat because The Winner's Crime was even better. It was both heartbreaking and beautiful and I can't even begin to describe how awesome this book is.
This book continues several months after the events of The Winner's Curse, and everything gets summed up in awesome flashbacks. If you're worried about needing to re-read the first book, you shouldn't be! The author does an awesome job of reminding readers about the feels they experienced in the last one.
I would go into specifics about what happens plot-wise, but I don't want to spoil this one for people who have yet to read The Winner's Curse. But let me say this: the plot is both captivating, exhilarating and it's just so brilliant. THE PLOT TWISTS! The world-building is once again fantastic and you can really picture everything that happens and the writing is definitely vivid.
Oh and we can't forget about the romance. If you thought the first book was swoony, just you wait until this one! Not only do we get to read from Kestrel's point of view, Arin also gets his own point of views. I loved reading from Arin's point of view and gahhh IT'S SO GOOD.
It seems that I have ceased to form coherent sentences when it comes to The Winner's Crime! So let me say this: if you haven't read The Winner's Curse yet, YOU REALLY SHOULD. And if you've already read the first book of this series, the wait for The Winner's Crime is definitely worth it!
Related Posts