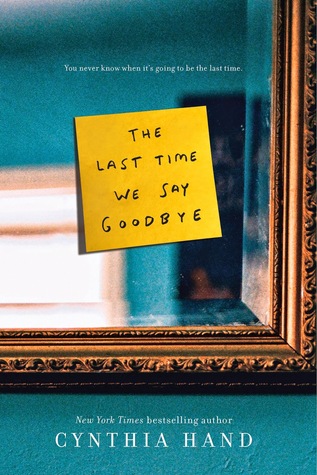 The Last Time We Say Goodbye
by Cynthia Hand

Published by
HarperTeen
on February 10th 2015

Genres: Contemporary, Fiction, General, YA, Young Adult

Pages: 400

Goodreads
---
There's death all around us.
We just don't pay attention.
Until we do.
The last time Lex was happy, it was before. When she had a family that was whole. A boyfriend she loved. Friends who didn't look at her like she might break down at any moment.
Now she's just the girl whose brother killed himself. And it feels like that's all she'll ever be.
As Lex starts to put her life back together, she tries to block out what happened the night Tyler died. But there's a secret she hasn't told anyone-a text Tyler sent, that could have changed everything.
Lex's brother is gone. But Lex is about to discover that a ghost doesn't have to be real to keep you from moving on.
From New York Times bestselling author Cynthia Hand, The Last Time We Say Goodbye is a gorgeous and heart-wrenching story of love, loss, and letting go.
I received this book from the publisher in exchange for an honest review, this does not influence the contents of this review. 
I usually start off my reviews by stating what made me pick up a book, and I think in this case, it was all the positive buzz. While I was hesitant to read The Last Time We Say Goodbye, for fear of ending up ugly crying, I'm really glad I read it.
One of the things that stood of the most for me was the main character, Lex. After her brother, Tyler, kills himself, Lex struggles to understand why he did so and what that means for her. I could clearly picture her emotions and thoughts, and I loved how clear her voice was. Lex is better at understanding math problems versus those of people, and that can really be seen throughout the book and how she interprets everything that happens.
I thought the plot was fantastic, but a little slow paced. I enjoyed the combination of letters + sequences in the book, although the plot seemed to move a little slow. One of my favourite parts of the plot was the way that readers got to see the development of Lex's and Ty's sibling relationship through the letters. I really got the chance to understand their relationship and I got to see how deep their familial bond ran.
The Last Time We Say Goodbye is emotional, heart-breaking and definitely made me shed a few (okay, a lot of) tears. I loved Lex and reading her journey after recovering from her brother's death made me question my own sibling relationships and how a single moment can change everything.
A romance was also subtly in TLTWSG, established through letters detailing flashbacks and I enjoyed it as well. It wasn't a main focus of the book (not at all) but I loved the elements of it that were present.
Overall, The Last Time We Say Goodbye is a heart-breaking and thoughtful book on suicide and family relationships that I highly recommend to people looking for that new YA release that explores some deeper issues.
Related Posts