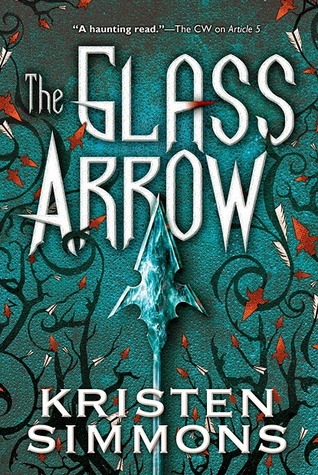 The Glass Arrow
by Kristen Simmons

Published by
Tor
on February 10th 2015

Genres: Dystopian, Fiction, YA, Young Adult

Pages: 336

Goodreads
---
The Handmaid's Tale meets Blood Red Road in Glass Arrow, the story of Aya, who lives with a small group of women on the run from the men who hunt them, men who want to auction off breeding rights to the highest bidder.
In a world where females are scarce and are hunted, then bought and sold at market for their breeding rights, 15-year old Aya has learned how to hide. With a ragtag bunch of other women and girls, she has successfully avoided capture and eked out a nomadic but free existence in the mountains. But when Aya's luck runs out and she's caught by a group of businessmen on a hunting expedition, fighting to survive takes on a whole new meaning.
I received an ARC from the publisher for review, this does not influence my opinions on the book.
When I heard about Kristen Simmons' new book, I was beyond excited. Her books are some of my favourites (although I admit I still have to read Three) and I was so excited to see her latest work. And I'm glad to say that I wasn't disappointed! The Glass Arrow is definitely a great, intense and  thought-provoking dystopia.
The Glass Arrow revolves around Aya, and her life in a world where women are captured, traded and treated as property. When she's captured by a businessman and his hunting party, she has to learn to survive all over again.
I honestly loved Aya and how she went against her societal norms. I like that she didn't just accept the way women were treated, compared to other people in her society, and I liked that she stuck to her guts and opinion. I definitely related to her in that sense, I am so stubborn as well!
The world building was a little staggered and was definitely developed through info-dumps but I liked that it was easy to comprehend, compared to other dystopians, and it definitely seemed unique.
The romance was also really well-developed. I was a little skeptical at first, since it seemed a little bordering on insta-love, but it definitely worked out and did not seem as much so by the end. The plot was also very fast-paced and intense. Some parts lagged a little, and had very little dialogue compared to description, but I still liked it a lot. I was a little distraught because as soon as I thought everything finally worked out, another twist screwed everything over!
Overall, if you're looking for a thrilling new dystopian that will keep you on your toes and at the edge of your seat, I recommend The Glass Arrow!
Related Posts