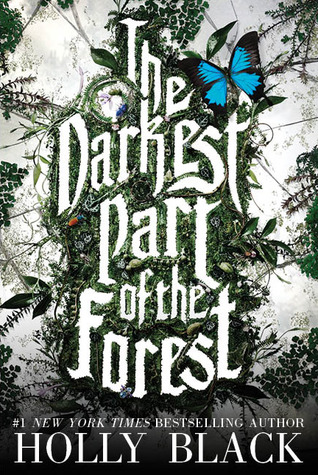 The Darkest Part of the Forest
by Holly Black

Published by
Little Brown Books for Young Readers
on January 13th 2015

Genres: Fantasy, Paranormal, YA, Young Adult

Goodreads
---
Children can have a cruel, absolute sense of justice. Children can kill a monster and feel quite proud of themselves. A girl can look at her brother and believe they're destined to be a knight and a bard who battle evil. She can believe she's found the thing she's been made for.
Hazel lives with her brother, Ben, in the strange town of Fairfold where humans and fae exist side by side. The faeries' seemingly harmless magic attracts tourists, but Hazel knows how dangerous they can be, and she knows how to stop them. Or she did, once.
At the center of it all, there is a glass coffin in the woods. It rests right on the ground and in it sleeps a boy with horns on his head and ears as pointed as knives. Hazel and Ben were both in love with him as children. The boy has slept there for generations, never waking.
Until one day, he does…
As the world turns upside down, Hazel tries to remember her years pretending to be a knight. But swept up in new love, shifting loyalties, and the fresh sting of betrayal, will it be enough?
I received a copy of this book at BEA 2014, this does not effect the contents of my review. 
As a huge fan of Holly Black, I was super excited to read her new novel. The Darkest Part of the Forest is an interesting and intriguing novel full of awesome world-building. But that's about all I can say for it. I mean, the characters were less compelling and the plot was a little… plain. I'm not saying it was bad, or too predictable, but it was just not as twisty as I expected.
Ben and Hazel are siblings and residents of Fairfold, a town where Fae and humans live in harmony… sort of. The people of Fairfold know how to handle the Fae, and the Fae begrudgingly allow humans to habitate the areas around them. Ben and Hazel have always loved the boy in the casket. In the middle of the woods, a clear casket made out of neither glass nor plastic holds a beautiful Fae boy. When the casket is broken, things spiral out of control for Hazel, and Ben. Can the siblings fix their city, and save it?
As read from above, The Darkest Part of the Forest seems all kinds of awesome. And it was, sort of. I mean, I liked the world-building and the premise but I couldn't really connect to the characters. I think it had something to do with the omniscient 3rd person narrative. I liked the writing but I couldn't really place myself in any of the character's heads. The plot was a little slow but interesting, and I like the way the book ended. The romance was pretty interesting, but I didn't find myself swooning over it as much as I want to.
Overall, The Darkest Part of the Forest was interesting and compelling. I recommend it for people looking for a book full of great world-building and impressive fantasy elements!
Related Posts