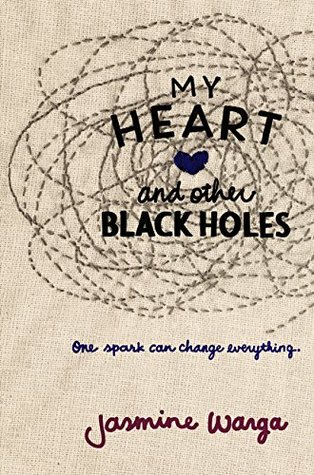 My Heart and Other Black Holes
by Jasmine Warga

Published by
Balzer + Bray
on February 10th 2015

Genres: Contemporary, YA, Young Adult

Goodreads
---
Sixteen-year-old physics nerd Aysel is obsessed with plotting her own death. With a mother who can barely look at her without wincing, classmates who whisper behind her back, and a father whose violent crime rocked her small town, Aysel is ready to turn her potential energy into nothingness.
There's only one problem: she's not sure she has the courage to do it alone. But once she discovers a website with a section called Suicide Partners, Aysel's convinced she's found her solution: a teen boy with the username FrozenRobot (aka Roman) who's haunted by a family tragedy is looking for a partner.
Even though Aysel and Roman have nothing in common, they slowly start to fill in each other's broken lives. But as their suicide pact becomes more concrete, Aysel begins to question whether she really wants to go through with it. Ultimately, she must choose between wanting to die or trying to convince Roman to live so they can discover the potential of their energy together. Except that Roman may not be so easy to convince.
I received an ARC of this book from the publisher, this does not affect my review or my opinion. 
When I first heard about My Heart and Other Black Holes, I knew I had to read it. While it isn't the usual fluffy book that I enjoy, I definitely wanted to pick this one up because I'm always on the look out for a great and thought-provoking book. And wow, am I glad that I decided to request this one. My Heart and Other Black Holes was such a great and powerful book.
Phsyics geek Aysel has been plotting her death, ever since her father messed up her life. When she discovers a website that gives people a chance to get suicide partners, she becomes the suicide partner of FrozenRobot (a.k.a. Roman). But as Aysel and Roman grow closer, Aysel starts to doubt her choice, and is hoping to make Roman doubt himself too.
I honestly loved Aysel, and her personality was definitely well-developed throughout the book. I loved seeing her develop, and grow as both a character and a person in the book. Roman, the other main character/love interest, was also just amazing to read about and my heart pains a little thinking about his reasons to seek a suicide partner. I could definitely relate to some of the important aspects of the book, and this book really made me think about some of my own personal thoughts and opinions about depression and suicide.
The plot, while somewhat predictable, was excellently written and just amazing. The plot wasn't too complex, as this was mostly a character-driven novel, but some parts definitely made me tear up, gasp and yell way too loudly. I also have some reservations about the romance, as the ending had an insta-lovey feel to it, but I think it definitely worked for the characters and suited the book overall.
Overall, I think My Heart and Other Black Holes was such a great and powerful book, and I definitely shed many tears reading it. I really liked it and I highly recommend it to people looking for a powerful read about depression and suicide.
Related Posts