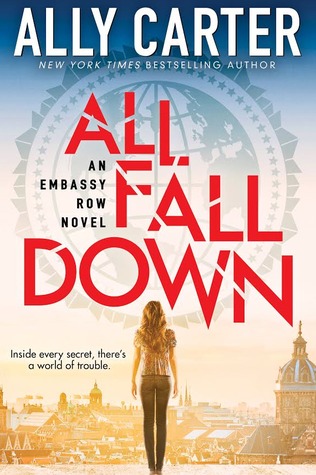 All Fall Down
by Ally Carter

Series:
Embassy Row #1
Published by
Scholastic Press
on January 27 2015

Genres: Contemporary, Mystery, Suspense, Thriller, YA, Young Adult

Pages: 320

Goodreads
---
Grace can best be described as a daredevil, an Army brat, and a rebel. She is also the only granddaughter of perhaps the most powerful ambassador in the world and Grace has spent every summer of her childhood running across the roofs of Embassy Row.
Now, at age sixteen, she's come back to stay - in order to solve the mystery of her mother's death. In the process, she uncovers an international conspiracy of unsettling proportions, and must choose her friends and watch her foes carefully if she and the world are to be saved.
I received this book for review from the publisher, this does not influence my review.
Having read the Heist Society series and the beginning of the Gallagher Girls series by Ally Carter, I totally thought I knew what I was going into with this one. But I was soooo wrong. This book completely blew me away! Seriously, I am writing this review right after finishing it and I think I have lost the ability to type coherent thoughts.
Grace is definitely not your ordinary teenager. She saw her mother murdered right in front of her eyes, and no one believes her. And she swears she isn't crazy. She's now back at Embassy Row, at the U.S. embassy specifically, and any wrong move she makes could not bring her down, but all those around her.
Basically, if you like political intrigue, mystery and tons of psychological suspense, All Fall Down is the book for you! The plot was interesting, intricately written and thought out. The first half is a little slow, as it is mostly world-building and establishing characters, but the second half is INTENSE (in the best way possible of course).
The character relationships in All Fall Down are also a highlight. Each character is written uniquely and the way they interact between each other is interesting. Grace, herself, is a strong character that isn't afraid to be herself. She gets a little nervous and angry sometimes, but what teenager doesn't?
The romance, however, was a little non-existent in this one but you can definitely see the tones that will carry towards the sequel. I can definitely see how Alexei will make readers swoon but he still seems very mysterious and it's hard to say what will happen with him in the next book, at least for me.
I think the most memorable part of the book for me was the last couple of chapters. SO many great things happen (and by great I mean totally mind-blowing and awful) and I am totally pumped for the sequel! I also enjoyed how different this was from Carter's books. Her books are always a little light but I thought this one was a little dark and I loved it.
Overall, if you're looking for an exciting new series with great characters and a very unique protagonist, I suggest All Fall Down. Now if you need me, I'll just be over here pining for the sequel.
Related Posts