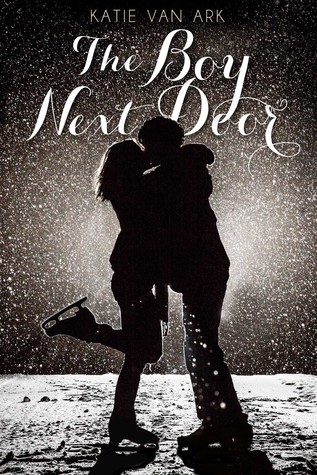 The Boy Next Door
by Katie Van Ark

Published by
Swoon Reads
on January 6th 2015

Genres: Contemporary, Romance, YA, Young Adult

Goodreads
---
In this intensely romantic novel from Swoon Reads, Maddy falls in love with her skating partner—who is also the boy next door.
Maddy Spier has been in love with the boy next door forever. As his figure skating partner she spends time in his arms every day. But she's also seen his arms around other girls—lots of other girls.
Gabe can't imagine skating with anyone but Maddy, and together they have a real chance at winning some serious gold medals. So, he's determined to keep thinking of her like a sister. After all, he's never had a romantic relationship that lasted for more than two weeks.
But when their coach assigns a new romantic skating program, everything changes. Will this be the big break that Maddy's been hoping for or the big breakup that Gabe has always feared?
I received an ARC of this book from the publisher, thanks! However, this does not affect my opinions/thoughts of the book.
While I read a lot of cute romances, The Boy Next Door was my first one about ice skating. Maddie and Gabe have been skating partners since they were young, and Maddie has been in love with Gabe for just as long. Except Gabe wants to keep their relationship strictly on the ice, as his track record is pretty poor when it comes to dating. But when they get assigned a new routine, Romeo & Juliet, everything changes.
Basically, if you like ice skating and cute stories, this one is for you! I loved the ice skating elements, while I have no knowledge about competitive skating, I enjoyed those elements heavily. Living in Canada, I am not immune to the wonder that is skating, or the cold.
I also really liked the characters in the novel. Maddie is brave, headstrong and isn't afraid to be herself. Gabe, on the other hand, is a little more timid- especially when it comes to Maddie. I loved seeing Gabe develop over the course of the novel, especially since he started out as a little unreliable and flawed. While I enjoyed these characters, I felt a little disconnected them, especially from Maddie. While Gabe had many sides and he changed throughout the course of the novel, Maddie felt a little one-dimensional. Don't get me wrong, I still liked Maddie, I just couldn't relate to her as much.
Of course, I can't fully discuss this review without the romance! I loved that the romance developed a little before the book took place, so the romance started right at the beginning of the book. In spite of this, I felt that the romance progressed a little slowly at the beginning and it was way too rushed at the end. Just the pace was a little hard to read, but it was still enjoyable!
Overall, I recommend The Boy Next Door for those interested in a cute winter read! With its ice skating elements, it's a perfect winter read to keep you warm during the cold months! While I had some minor problems with the novel, I look forward to what Katie Van Ark writes next!
Related Posts