P.S. I Still Love You by Jenny Han
April 21st 2015 by Simon & Schuster Books for Young Readers
–no cover yet-
Lara Jean didn't expect to really fall for Peter.


She and Peter were just pretending. Except suddenly they weren't. Now Lara Jean is more confused than ever.

When another boy from her past returns to her life, Lara Jean's feelings for him return too. Can a girl be in love with two boys at once?

In this charming and heartfelt sequel to the New York Times bestseller To All the Boys I've Loved Before, we see first love through the eyes of the unforgettable Lara Jean. Love is never easy, but maybe that's part of makes it so amazing.
Gabriel by Nikki Kelly

October 27th 2015 by Fiewel & Friends
Sequel to Lailah!
The Pirate's Code by Heidi Schulz
Expected in 2015, published by Disney Hyperion
This sequel to Hook's Revenge continues the Neverland adventures of Captain Hook's daughter, Jocelyn, as she competes with a malevolent pirate captain to find her deceased father's treasure.
We Can Work it Out by Elizabeth Eulberg

January 27th 2015 by Scholastic Point
When Penny Lane started The Lonely Hearts Club, the goal was simple: to show that girls didn't need to define themselves by how guys look at them, and didn't have to value boyfriends over everything else. Penny thought she'd be an outcast for life…but then the club became far more popular than she ever imagined it would be.

But what happens when the girl who never thought she'd date a good guy suddenly finds herself dating a great one? She doesn't need a boyfriend… but she wants it to work out with this particular boyfriend. And he wants it to work out with her.

Only, things keep getting in the way. Feelings keep getting hurt. Words keep getting misunderstood.

Penny Lane worked hard to declare her independence. Now she needs to figure out what to do with it — and how to balance what she wants with what everyone else wants. In We Can Work It Out, Elizabeth Eulberg returns to the world of her first novel, The Lonely Hearts Club, and gets to the heart of how hard relationships can be… and why they are sometimes worth all the drama and comedy they create.
Empire of Night by Kelley Armstrong
April 7th 2015 by HarperCollins, Random House in Canada
Sisters Moria and Ashyn are the Keeper and Seeker of Edgewood. Or at least, they were.

Their village is gone. Their friends have betrayed them. And now, the emperor has sent them on a mission to rescue the children of Edgewood—accompanied by Prince Tyrus and a small band of imperial warriors. But the journey proves more perilous than they could have imagined. With treachery and unrest mounting in the empire, Moria and Ashyn will have to draw on all their influence and power to overcome deadly enemies—not all of them human—and even avert an all-out war.
End of Days by Susan Ee

May 12th 2015 by Skyspace
The final book in Penryn and the End of Days series
Unleashed by Sophie Jordan
February 24th 2015 by HarperTeen
What if the worst thing you ever did was unforgivable?

Davy's world fell apart after she tested positive for Homicidal Tendency Syndrome. She was expelled from her school, dumped by her boyfriend, abandoned by friends, and shipped off to a camp that turns HTS carriers into soldiers. Davy may have escaped, but the damage has already been done. The unthinkable has happened. Now, even worse than having everyone else see her as a monster is the knowledge that they may have been right about her all along. Because Davy has killed.

On the run from government agents, Davy is rescued by Caden, the charismatic leader of an underground group of rebels. Despite Caden's assurances that the Resistance is made up of carriers like her, Davy isn't sure she can trust them. Then again, she doesn't even know if she can trust herself . . . or her growing feelings for Caden. But if she doesn't belong with Caden and his followers, is there anywhere she can call home?
Public Enemies by Ann Aguirre

August 4th 2015 by Fiewel & Friends
In Book 2 of the Immortal Game trilogy, Edie must learn the rules of the game . . . and then play better than anyone else.

Through a Faustian bargain, Edie Kramer has been pulled into the dangerous world of the Immortal Game, where belief makes your nightmares real. Hungry for sport, fears-made-flesh are always raising the stakes. To them, human lives are less than nothing, just pieces on a board.

Because of her boyfriend Kian's sacrifice, she's operating under the mysterious Harbinger's aegis, but his patronage could prove as fatal as the opposition. Raw from deepest loss, she's terrified over the deal Kian made for her. Though her very public enemies keep sending foot soldiers–mercenary monsters committed to her destruction–she's not the one playing under a doom clock. Kian has six months…unless Edie can save him. And this is a game she can't bear to lose.
Servants of Fate #2 by Sarah Fine
-Sequel to Marked–
Release date not confirmed
Daughter of Dusk by Livia Blackburne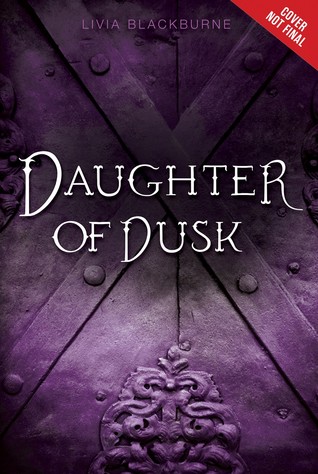 August 4th 2015 by Disney Hyperion
After learning the truth about her bloodlines, Kyra can't help but feel like a monster.

Though she's formed a tentative alliance with the Palace, Kyra must keep her identity a secret or risk being hunted like the rest of her Demon Rider kin. Tristam and the imprisoned assassin James are among the few who know about her heritage, but when Tristam reveals a heartbreaking secret of his own, Kyra's not sure she can trust him. And with James's fate in the hands of the palace, Kyra fears that he will give her away to save himself.

As tensions rise between Forge and neighboring Edlan, and vicious Demon Rider attacks continue in surrounding villages, Kyra knows she must do something to save her city. But she walks a dangerous line between opposing armies: will she be able to use her link to the Demon Riders for good, or will her Makvani blood prove to be deadly?

In this spellbinding sequel to Midnight Thief, Kyra and Tristam face their biggest battle yet as they grapple with changing allegiances, shocking deceit, and vengeful opponents.
Related Posts