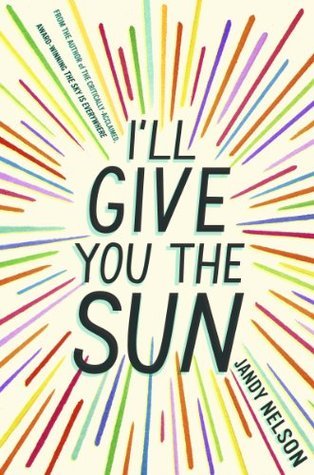 I'll Give You the Sun
by Jandy Nelson

Published by
Dial
on September 16th 2014

Genres: Contemporary, Fiction, YA, Young Adult

Goodreads
---
A brilliant, luminous story of first love, family, loss, and betrayal for fans of John Green, David Levithan, and Rainbow Rowell
Jude and her twin brother, Noah, are incredibly close. At thirteen, isolated Noah draws constantly and is falling in love with the charismatic boy next door, while daredevil Jude cliff-dives and wears red-red lipstick and does the talking for both of them. But three years later, Jude and Noah are barely speaking. Something has happened to wreck the twins in different and dramatic ways . . . until Jude meets a cocky, broken, beautiful boy, as well as someone else—an even more unpredictable new force in her life. The early years are Noah's story to tell. The later years are Jude's. What the twins don't realize is that they each have only half the story, and if they could just find their way back to one another, they'd have a chance to remake their world.
This radiant novel from the acclaimed, award-winning author of The Sky Is Everywhere will leave you breathless and teary and laughing—often all at once.
I borrowed this book from my library, this still does not affect the contents of my review.
When I heard about a new book from Jandy Nelson, I was a little nervous. I enjoyed her last book, but the writing sometimes rubbed me the wrong way and this new book is about twins- which is always a hit or miss for me. But I gave it a try, and I am so happy I did. Because let me tell you, I LOVED THIS BOOK! (that totally needed caps + bold).
Noah and Jude are twin brother and sister, but in the past 3 years, they've had a falling out. Starting with Noah's point-of-view at 13, and Jude's at age 16, I'll Give You the Sun tells the story of heartbreak, love, friendship and just magical-awesome-fun-shocking-stuff that only Jandy Nelson can write. (that last point was all my own, I am clearly an intricate speaker)
First of all, let me state that this review will probably be biased towards one character. While I liked Jude, I am completely obsessed with Noah. He is a complex, real, compelling and just heartbreaking character. I loved his point-of-view, and seeing how his life changed over the course of 3 years- in Jude's eyes. I liked Jude and also found her just as fascinating but she didn't compel me as much as Noah.
I want to describe every single magical thing about this book, but I think that'll ruin it. So instead, let me just say that if you read the synopsis and it sounds right for you- read it! If you read the synopsis but are iffy about reading it, here's what I will say: If you are looking for an awesome, compelling and lyrical novel, I highly recommend I'll Give You the Sun. The writing is very lyrical and metaphorical, which isn't always something readers look for, but if you give it a chance- I'm sure you'll enjoy it!
Have you read I'll Give You the Sun? If you haven't, please tell me you're ordering it/reserving it at your library as we speak!
Related Posts