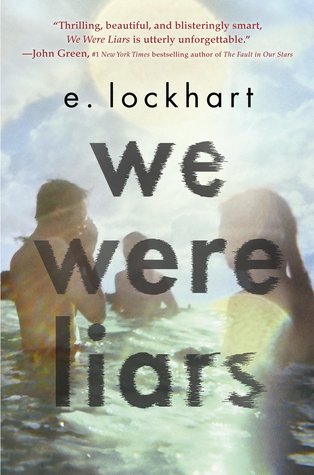 We Were Liars
by E. Lockhart

Published by
Delacorte
on May 13th 2014

Genres: Contemporary, Mystery, Suspense, YA, Young Adult

Goodreads
---
A beautiful and distinguished family.
A private island.
A brilliant, damaged girl; a passionate, political boy.
A group of four friends—the Liars—whose friendship turns destructive.
A revolution. An accident. A secret.
Lies upon lies.
True love.
The truth.
We Were Liars is a modern, sophisticated suspense novel from National Book Award finalist and Printz Award honoree E. Lockhart.
Read it.
And if anyone asks you how it ends, just LIE.
I have heard some pretty great things about this book, and so  I decided to borrow it from the library, and I am a little.. underwhelmed. I'm not disappointed, but I'm not so impressed with it either. I think it's due to the hype, because of the large amount of people saying how great the twist is, I was a little underwhelmed because I was expecting something much more surprising.
In the lamest of terms, this book is about a rich family, the Sinclairs. Ever summer, the Sinclairs go to summer island off the coast of Massachusetts but this year, things are different. This book is about summer flings, complicated families and accepting the truth.
We Were Liars is a great short contemporary about the intricacies of aristocracy in the modern world. It was interesting, jaw-dropping and kind of amazing. While I don't want to get into the details of the book, for fear of spoilers, I suggest you give it a read if you're looking for something refreshing and unique!
Related Posts