Happy Tuesday lovelies!! Today's TT post took a lot of wok for me since there are SO MANY series I want to jump into!

Not a Drop to Drink by Mindy McGinnis
Book 1 in the Not A Drop To Drink Duology
Published September 24th 2013
Sequel In a Handful of Dust published September 23rd 2014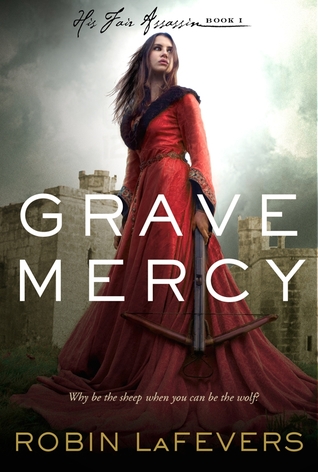 Grave Mercy by Robin La Fevers
Book 1 in the His Fair Assassins series
Published April 3rd 2012
Book 2 Dark Triumph published April 2nd 2013
Book 3 Mortal Heart published November 4th 2014

The Lies of Locke Lamora by Scott Lynch
Book 1 in the Gentleman Bastard Series
Published (in Mass paperback edition) June 26th 2007
Book 2 Red Seas Under Red Skies published August 31st 2007
Book 3 The Republic of Thieves published October 8th 2013
At the time of this post Goodreads had books 4-7 up as well

Unspoken by Sarah Rees Brennan
Book 1 in The Lynburn Legacy series
Published September 11th 2012
Book 2 Untold published September 24th 2013
Book 3 Unmade published September 23rd 2014

Hemlock by Kathleen Peacock

Book 1 in the Hemlock series
Published May 8th 2012
Book 2 Thornhill published September 10th 2013
Book 3 Willowgrove published January 6th 2015
Falling Kingdoms by Morgan Rhodes
Book 1 in the Falling Kingdoms series
Published December 11th 2012
Book 2 Rebel Spring published December 3rd 2013
Book 3 Gathering Darkness published December 9th 2014
At the time of this post Goodreads had books 4-6 without titles or release dates.
Legend by Marie Lue
Book 1 in the Legend series
Published November 29th 2011
Book 2 Prodigy release January 29th 2013
Book 3 Champion released published November 5th 2013
Cinder by Marissa Meyer
Book 1 in the Lunar Chronicles series
Published January 3rd 2012
Book 2 Scarlet published February 5th 2013
Book 3 Cress published February 4th 2014
Book 3.5 Fairest published January 27th 2015
Book 4 Winter published November 24th 2015
Defiance by C.J. Redwin
Book 1 in the Defiance series
Published August 28th 2012
Book 2 Deception published August 27th 2013
Book 3 Deliverance published August 26th 2014
Related Posts