Top Ten Tuesday is a weekly meme hosted by  The Broke and The Bookish.
Today's Top Ten post actually took a ton of thought for Shelly & I!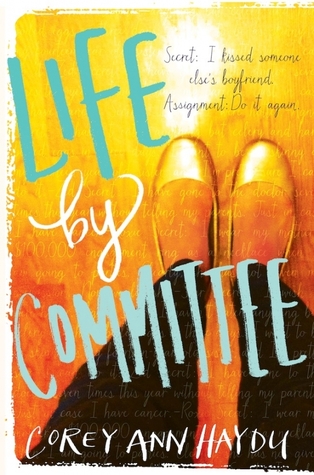 Life by Committee by Corey Ann Haydu
Some secrets are too good to keep.

Tabitha might be the only girl in the history of the world who actually gets less popular when she gets hot. But her so-called friends say she's changed, and they've dropped her flat.

Now Tab has no one to tell about the best and worst thing that has ever happened to her: Joe, who spills his most intimate secrets to her in their nightly online chats. Joe, whose touch is so electric, it makes Tab wonder if she could survive an actual kiss. Joe, who has Tabitha brimming with the restless energy of falling in love. Joe, who is someone else's boyfriend.

Just when Tab is afraid she'll burst from keeping the secret of Joe inside, she finds Life by Committee. The rules of LBC are simple: tell a secret, receive an assignment. Complete the assignment to keep your secret safe.

Tab likes it that the assignments push her to her limits, empowering her to live boldly and go further than she'd ever go on her own.

But in the name of truth and bravery, how far is too far to go?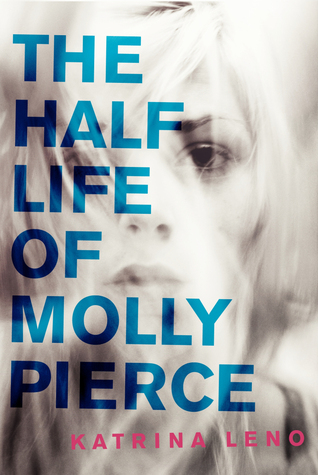 The Half Life of Molly Pierce by Katrina Leno
You take it for granted. Waking up. Going to school, talking to your friends. Watching a show on television or reading a book or going out to lunch.

You take for granted going to sleep at night, getting up the next day, and remembering everything that happened to you before you closed your eyes.

You live and you remember.

Me, I live and I forget.

But now—now I am remembering.

For all of her seventeen years, Molly feels like she's missed bits and pieces of her life. Now, she's figuring out why. Now, she's remembering her own secrets. And in doing so, Molly uncovers the separate life she seems to have led…and the love that she can't let go.

The Half Life of Molly Pierce is a suspenseful, evocative psychological mystery about uncovering the secrets of our pasts, facing the unknowns of our futures, and accepting our whole selves.
As a cassandra sangue, or blood prophet, Meg Corbyn can see the future when her skin is cut—a gift that feels more like a curse. Meg's Controller keeps her enslaved so he can have full access to her visions. But when she escapes, the only safe place Meg can hide is at the Lakeside Courtyard—a business district operated by the Others.

Shape-shifter Simon Wolfgard is reluctant to hire the stranger who inquires about the Human Liaison job. First, he senses she's keeping a secret, and second, she doesn't smell like human prey. Yet a stronger instinct propels him to give Meg the job. And when he learns the truth about Meg and that she's wanted by the government, he'll have to decide if she's worth the fight between humans and the Others that will surely follow.
Landline by Rainbow Rowell
Georgie McCool knows her marriage is in trouble. That it's been in trouble for a long time. She still loves her husband, Neal, and Neal still loves her, deeply — but that almost seems beside the point now.

Maybe that was always beside the point.

Two days before they're supposed to visit Neal's family in Omaha for Christmas, Georgie tells Neal that she can't go. She's a TV writer, and something's come up on her show; she has to stay in Los Angeles. She knows that Neal will be upset with her — Neal is always a little upset with Georgie — but she doesn't expect to him to pack up the kids and go home without her.

When her husband and the kids leave for the airport, Georgie wonders if she's finally done it. If she's ruined everything.

That night, Georgie discovers a way to communicate with Neal in the past. It's not time travel, not exactly, but she feels like she's been given an opportunity to fix her marriage before it starts . . .

Is that what she's supposed to do?

Or would Georgie and Neal be better off if their marriage never happened?
Everything Leads to You by Nina LaCour
A love letter to the craft and romance of film and fate in front of—and behind—the camera from the award-winning author of Hold Still.

A wunderkind young set designer, Emi has already started to find her way in the competitive Hollywood film world.

Emi is a film buff and a true romantic, but her real-life relationships are a mess. She has desperately gone back to the same girl too many times to mention. But then a mysterious letter from a silver screen legend leads Emi to Ava. Ava is unlike anyone Emi has ever met. She has a tumultuous, not-so-glamorous past, and lives an unconventional life. She's enigmatic…. She's beautiful. And she is about to expand Emi's understanding of family, acceptance, and true romance.
Eleanor & Park by Rainbow Rowell
Two misfits.
One extraordinary love.

Eleanor… Red hair, wrong clothes. Standing behind him until he turns his head. Lying beside him until he wakes up. Making everyone else seem drabber and flatter and never good enough…Eleanor.

Park… He knows she'll love a song before he plays it for her. He laughs at her jokes before she ever gets to the punch line. There's a place on his chest, just below his throat, that makes her want to keep promises…Park.

Set over the course of one school year, this is the story of two star-crossed sixteen-year-olds—smart enough to know that first love almost never lasts, but brave and desperate enough to try.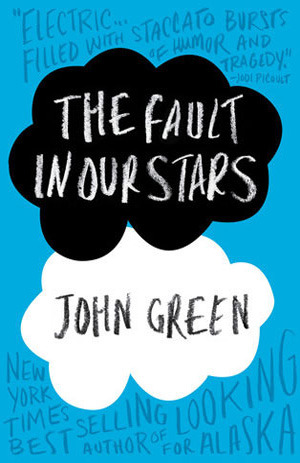 The Fault in Our Stars by John Green
Despite the tumor-shrinking medical miracle that has bought her a few years, Hazel has never been anything but terminal, her final chapter inscribed upon diagnosis. But when a gorgeous plot twist named Augustus Waters suddenly appears at Cancer Kid Support Group, Hazel's story is about to be completely rewritten.
Tin Star by Cecil Castellucci
On their way to start a new life, Tula and her family travel on the Prairie Rose, a colony ship headed to a planet in the outer reaches of the galaxy. All is going well until the ship makes a stop at a remote space station, the Yertina Feray, and the colonist's leader, Brother Blue, beats Tula within an inch of her life. An alien, Heckleck, saves her and teaches her the ways of life on the space station.

When three humans crash land onto the station, Tula's desire for escape becomes irresistible, and her desire for companionship becomes unavoidable. But just as Tula begins to concoct a plan to get off the space station and kill Brother Blue, everything goes awry, and suddenly romance is the farthest thing from her mind.
Daughter of Smoke & Bone by Laini Taylor
Around the world, black handprints are appearing on doorways, scorched there by winged strangers who have crept through a slit in the sky.

In a dark and dusty shop, a devil's supply of human teeth grows dangerously low.

And in the tangled lanes of Prague, a young art student is about to be caught up in a brutal otherwordly war.

Meet Karou. She fills her sketchbooks with monsters that may or may not be real, she's prone to disappearing on mysterious "errands", she speaks many languages – not all of them human – and her bright blue hair actually grows out of her head that color. Who is she? That is the question that haunts her, and she's about to find out.

When beautiful, haunted Akiva fixes fiery eyes on her in an alley in Marrakesh, the result is blood and starlight, secrets unveiled, and a star-crossed love whose roots drink deep of a violent past. But will Karou live to regret learning the truth about herself?
Written In Red by Anne Bishop
THIS ONE HAD TO BE MENTIONED MORE THAN ONCE!!!!!!!
Related Posts