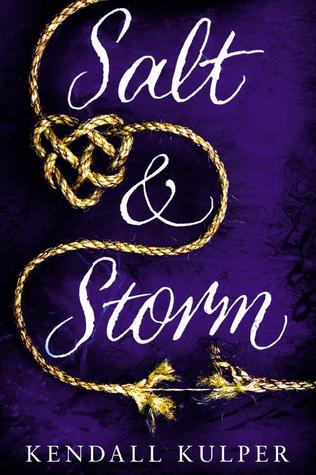 Salt & Storm
by Kendall Kulper

Published by
Little Brown Books for Young Readers
on September 23rd 2014

Genres: Fantasy, Historical Fiction, Paranormal, YA, Young Adult

Goodreads
---
A sweeping historical romance about a witch who foresees her own murder--and the one boy who can help change her future.
Sixteen-year-old Avery Roe wants only to take her rightful place as the witch of Prince Island, making the charms that keep the island's whalers safe at sea, but her mother has forced her into a magic-free world of proper manners and respectability. When Avery dreams she's to be murdered, she knows time is running out to unlock her magic and save herself.
Avery finds an unexpected ally in a tattooed harpoon boy named Tane--a sailor with magic of his own, who moves Avery in ways she never expected. Becoming a witch might stop her murder and save her island from ruin, but Avery discovers her magic requires a sacrifice she never prepared for.
I received a copy of this book at BEA, this doesn't affect the contents of my review.
I'll admit that I went into Salt & Storm completely blind, and I did pick it up for the pretty cover. But I'm glad the cover wasn't the only thing working for this book, it was really great!
Avery Roe has always wanted to be the town witch, and when she has a prophetic dream that depicts her murder, she decides to try and finally escape her mother's clutches.
While the start of Salt & Storm (plot-wise) was fairly slow, I loved the setting and main character. Salt & Storm takes place in the 1860s, in a small island who's livelihood depends on whaling. I loved how Avery and her island were so deeply intertwined, and that she was so invested in the dealings of the people who inhabited the island. While it was a little heartbreaking to read about all the whaling (knowing what happens to them in the future), I still found the storytelling compelling.
The romance in Salt & Storm was on the dramatic side but still very cute and exciting to read about. I loved all the mysteries surrounding Tane and how Avery and him worked together to try and fix their own problems.
The plot twist and ending in this book were just phenomenal, I would say more but I fear spoiling too much! But let it be known that I was extremely devastated, in a good way, I think?!
Overall, Salt & Storm was a pretty great historical fiction novel that impressingly weaves characters and magic together. I highly recommend it for people looking for a very character and setting-driven novel!
Related Posts