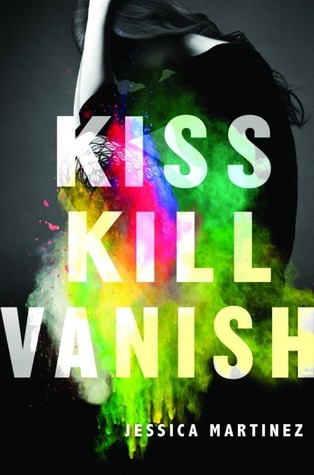 Kiss Kill Vanish
by Jessica Martinez

Published by
Katherine Tegen Books
on October 7th 2014

Genres: Contemporary, Thriller, YA, Young Adult

Goodreads
---
Valentina Cruz no longer exists.

One moment, she was wrapped in Emilio's arms, melting into his kiss. The next, she was witnessing the unthinkable: a murder in cold blood, ordered by her father and carried out by her boyfriend. When Emilio pulled the trigger, Valentina disappeared. She made a split-second decision to shed her identity and flee her life of privilege, leaving the glittering parties and sultry nightlife of Miami far behind.

She doesn't know how to explain to herself what she saw. All she knows now is that nothing she believed about her family, her heart, or Emilio's love, was real.

She can change her name and deny her past, but Valentina can't run from the truth. The lines between right and wrong, and trust and betrayal, will be blurred beyond recognition as she untangles the deceptions of the two men she once loved and races to find her own truth.
Hey, guys! I am so happy to introduce you guys to Kiss Kill Vanish and welcome you to my stop on the Canadian tour!
About the Author
Jessica Martinez is the author of young adult novels Virtuosity, The Space Between Us, The Vow, and Kiss Kill Vanish. She was born and raised in Calgary, Canada. As a child she played the violin, read books, and climbed trees incessantly. She went on to study English and music at Brigham Young University, and since then has been an English teacher, a symphony violinist, and a mother. She currently lives in Orlando, Florida with her husband and three children.
Review
Kiss Kill Vanish is a perfect blend of suspense, character depth and twisty plot. Valentina Cruz was happy living in her huge Miami home with her 2 sisters, art collector father and secret boyfriend. Until one night, she sees Emilio ( previously mentioned secret boyfriend) murder someone under the orders of her father. 3 months later, she's living in Montreal trying to hide from the events of that night. But can she really hide from her father's influence and can she really run from the truth?
I liked Valentina, our main character, and her development over the course of the book. I love how resilient she was and that she was determined and probably as stubborn as I am. Despite the great things she did because of her stubbornness, it was also sometimes annoying. I was very irritated by the fact that she decides to take matters into her own hands, when she should clearly step back and let others handle the situation. (Yes, I know that was vague as heck but I don't want to spoil anything). I also think her stubbornness sometimes made her seem very brash and she acted, sometimes, without any regard for future consequences.
Despite my misgivings about Valentina, I thought all the characters were beautifully, and complexly, written. I loved reading about all the new acquaintances Valentina made and I loved reading her flashbacks to her family and Emilio. I also loved all the side characters and how they fit into the story. And slight warning, with new characters also comes a complex romance. So, readers, here is your warning: if you're looking for a book with a straight-forward ship, Kiss Kill Vanish is not your book. The romance in this one is complicated and messy. I was constantly debating about which side to take and who to trust!
The plot of Kiss Kill Vanish was very interesting and intricate. I loved how everything came together at the end and how the pieces of the story all fell together. It was definitely very mysterious and suspenseful. At one point, I got so sucked into what was happening that I completely tuned everything out and then found myself confused about where I was sitting, it was that good. I also enjoyed reading the comparisons in the book between people as how you see them vs. how they actually are. Discovering the truth is a huge theme in this book and it definitely plays a huge role in the plot.
Despite my enjoyment of the plot and the growth of the main character, Kiss Kill Vanish sometimes felt a little dragged on and as I mentioned before, Valentina sometimes annoyed me. But overall, I thought Kiss Kill Vanish was a great contemporary novel. I definitely recommend it for readers reluctant to get into heavy thrillers but still want to feel the rush that comes with a great mystery.
Related Posts